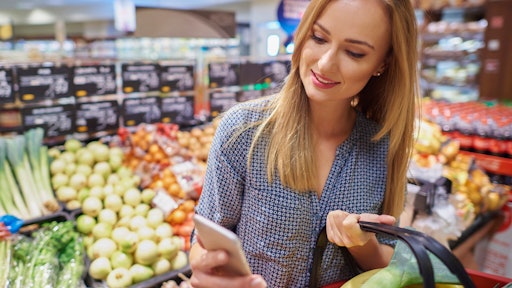 The big food manufacturers have one thing in common—they recognize that changing consumer demands focused on healthier foods is a macro trend they need to embrace wholeheartedly in order to stay relevant.
Last year, Nestle SA turned in its slowest growth in the U.S. in decades. Campbell's sales are also struggling, prompting CEO Denise Morrison to acknowledge in a Wall Street Journal report that, "We know that consumer preferences for fresh and healthier food continues to be strong," and management is "acting with urgency" to reshape the food giant into a health-oriented snacking company. For its part, Kraft Heinz said it would move faster this year to keep pace with changing consumer demands.
It's not just big food manufacturers that are slow to adapt to the changing landscape; the grocery store sector lags other retail sectors when it comes to implementing technology to improve the customer experience.
A survey of over 1,000 adults across the U.S. conducted by Phononic found that half of those polled said grocery stores haven't figured out how to use technology like other retailers, while 89 percent want to shop in a grocery store that understands how to make buying groceries an easier and/or more efficient experience.
Tony Atti, founder and CEO of Phononic, notes that, "As e-commerce innovation continues to disrupt brick-and-mortar retail in response to consumers' desire for a more convenient and personalized shopping experience, traditional retailers are adapting to stay relevant." The solution, he says, is to look towards technology, which "will improve consumers' shopping experiences" and allow grocery stores to "ultimately survive—and thrive—in this increasingly competitive landscape."
In its grocery industry survey "Supermarket 2020," Symphony Retail Ai, a leading global provider of artificial intelligence-enabled decision platforms, solutions and customer-centric insights, identified current challenges faced in the sector, along with a number of decidedly positive opportunities.
Among the key trends revealed in the survey:
Large weekly shopping trips being displaced by online shopping and preferences for prepared foods. The weekly "pantry-loading" shopping trip to the local grocery store is declining, with a 3 percent to 4 percent decrease in large baskets from just a year ago. Consumers are increasingly turning to online shopping when purchasing 15+ items, and online grocery shopping has risen 14 percent in the U.S. In addition, 76 percent of consumers report that they are increasingly buying prepared food instead of cooking dinner.
Amazon's disruption through its acquisition of Whole Foods.

Whole Foods

immediately lowered prices on many products on Day One of the

Amazon

acquisition, and together,

Amazon

and

Whole Foods

have a huge logistical advantage. Eighty-one percent of

Whole Foods

shoppers represent the same demographics as

Amazon

Prime customers, and 95 percent of

Amazon

Prime customers now have refrigerated

Amazon

distribution centers within 10 miles.
Growth of private label brands. CPGs are feeling the pressure, too, facing increasing competition from private label brands. Private label is up 18 percent in the U.S., leading to revenue losses and lower margins for major CPGs and creating headwinds for future growth.
Continued, fierce competition from discounters such as Aldi, LIDL, Walmart and others. Aldi and LIDL are turning up the heat on traditional supermarkets by rapidly increasing their store count in the U.S. Far more than just discounters, they are expert product curators with highly efficient stores that feature higher-margin private label brands and low overhead. Adding to this,

Walmart

has declared a "price war" on grocery SKUs, asking CPGs to move all trade promotion dollars into "Everyday Low Price."
In the meantime, the evolving supermarket will feature several distinct characteristics, states Symphony Ai, including:
Stores will have fewer than 10 aisles instead of today's 15+ aisles, with an average product range of fewer than 10 highly curated SKUs per category to meet consumer needs for convenience and quality. Stores can support this in-store model by offering a million SKUs online as part of their multichannel strategy, offering shoppers virtually unlimited product access.
Stores should remove the center store aisles to make room for prepared foods, taking advantage of shoppers' intentions to spend 3-4 times more on prepared foods compared to other areas. Symphony's research indicates that year-over-year growth in prepared foods is 8 percent to 9 percent annually for supermarkets.
A special products aisle can offer a "surprise and delight" section that engages shoppers with products that change twice a week.
Grocers can recreate a farmer's market in every store, supplied by local and regional farms and suppliers that meet strict requirements.
Private label will represent a much higher percent of SKUs, increasing to 40 percent to 45 percent compared with today's 18 percent to 20 percent.
Stores will offer shoppers convenient tools such as click & collect, 3D store-navigation that allows shoppers to connect their shopping list to store layout on their mobile phones, and AI-enabled, real-time basket cost reduction offers.
Commenting on the survey's finding, Symphony Retail Ai's Pallab Chatterjee, chair and CEO, noted that, "Supermarkets face unprecedented competitive pressures today. In order to compete and win, grocery retailers must transform their outdated store models and become 'stores of the future' that are agile and aligned with today's consumer preferences."
Simply put, the food industry at large cannot afford to remain on the sidelines while other retailers rethink their products, services, delivery methods, and entire business models to keep pace with the rapid changes underway. That would be a huge risk.