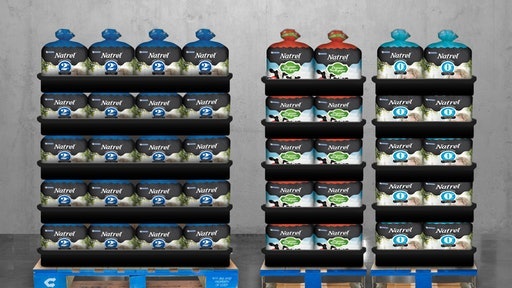 CHEP
Food manufacturers aren't strangers to crisis management. From the multiple outbreaks at fast food restaurants to the lettuce recall that threatened Thanksgiving, the last few years have been eventful for the businesses that put food on our tables.
And, then the Coronavirus disease (COVID-19) happened.
The pandemic had a significant impact on the supply chain as a whole, but food manufacturers felt (and still feel) the brunt of the Coronavirus. Retailers struggled to get products, as consumer packaged goods (CPG) brands shut down in the wake of factory outbreaks, while some CPG brands had to reduce product lines to their most popular brands to ensure they could meet increased demand. Consumers adjusted to eating at home for every meal and wiping their groceries down before putting them away.
There was some good news, however. Much as virtual conferencing technologies that were already growing before the pandemic helped employees quickly transition to work-from-home, burgeoning traceability solutions made it possible for the food and beverage supply chain to offer reassurance in an otherwise uncertain time. They could quickly and seamlessly track and isolate suspect products in accordance with the Food Safety Modernization Act (FSMA), ensuring safe and unspoiled food continued to move through the supply chain.
Let's explore how traceability changed food and beverage in 2020, and what it will mean for the industry moving forward.
Tracking outbreaks throughout the supply chain
As COVID-19 spread in spring 2020, multiple meat packing plants faced growing infections among their workforce. Reuters reported more than 17,000 workers tested positive in April and May 2020. With raw materials entering these factories and finished products leaving them for store shelves, it was critical for all businesses involved in the supply chain to understand if any product in their facility – and the container that product came packed in – had been exposed to employees who tested positive.
Traceability technology helped answer questions quickly. Barcodes affixed to individual containers, rather than barcodes designed for an entire shipment, offered recipients granular data into where the container and its contents had been throughout manufacturing. If a COVID-19 case was reported, the impacted factory or warehouse could quickly contact the businesses that received containers from the last day that employee was on site.
And, while much of the coverage around contact tracing focused on how it was helping the general public avoid COVID-19, it played a critical role in the supply chain as well. Advanced contact tracing solutions helped manufacturers understand which employees had been within six feet of positive employee for more than 15 minutes, helping them safely quarantine while working to avoid an outbreak. These solutions, in combination with robust testing programs, helped food and beverage businesses alleviate their suppliers' and retailer's fears.
Keeping food safe and viable
Although the CDC reports the chances of contracting COVID-19 from food are quite low, the early days of the pandemic caused a great deal of anxiety among retailers and their customers. To alleviate these concerns, food manufacturers increased oversight of the sanitation practices at their suppliers. Track-and-trace solutions played a key role in quelling fears.
In supply chains leveraging reusable containers, traceability allowed manufacturers to have electronic record of each asset being cleaned, inspected, and scanned before it's next use. Of course, technology such as semi-automated washing facilities – designed to reduce the number of employees touching sanitized containers, and therefore reducing the risk the container came into contact with COVID-19 – was also a powerful tool in keeping the supply chain protected.
The importance of traceability during the pandemic stretches beyond virus protection, however. The sudden shift away from in-restaurant dining, and the resulting strain on grocery stores, meant food manufacturers couldn't afford food spoilage waste – demand for fresh, healthy foods was far too great. Advanced traceability solutions, such as those that continually monitor temperatures within a semi-truck, ensured food remained in optimal condition before reaching the supermarket shelf.
What will we take away from COVID-19?
The pandemic won't last forever. However, it's likely the way consumers approach their food and beverage purchases will never be the same. Expectations of traceability in the supply chain, e.g. understanding which farm a customer's fresh produce or meat came from, were already rising before the outbreak. COVID-19 simply accelerated the trend.
Perhaps the biggest takeaway from the pandemic will be an understanding of why visibility into every nook and cranny of the manufacturing and distribution process is critical. A single mistake early in the supply chain can significantly impact nodes all the way to the grocery store. By adopting advanced traceability solutions, companies can easily gather and maintain data on every aspect of a shipment and transform their supply chain in the process.