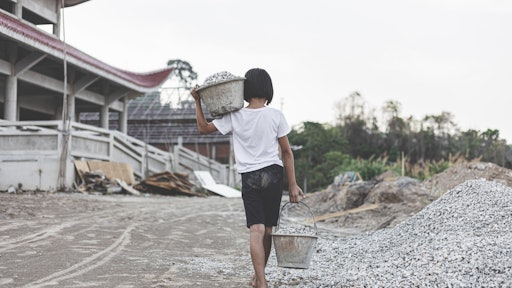 AungMyo AdobeStock_341363503
It's no secret that today's global supply chains are dealing with major challenges. Since 2020, ongoing disruptions—like labor scarcity, supply shortages and shipping bottlenecks—have brought supply chain issues to the front and center for businesses and consumers alike.
However, one of the biggest problems long pre-dates the pandemic and continues to grow -- forced labor. This massive global issue is highly difficult to spot, much less eradicate, since forced labor is so deeply embedded in the complex production and movement of goods around the world.
The shocking reality of forced labor
The International Labour Organization estimates that nearly 50 million are living in modern slavery. And, 28 million of those people are working under forced labor conditions, including more than 3.3 million children. It's a problem found at every stage of the supply chain—from workers made to harvest fields or mine metals at the raw material level, to those forced to manufacture parts or assemble finished products on the factory floor. Exploitation even extends to the warehousing and shipping operations that connect each point in a supply chain network.
While these human rights violations exist nearly everywhere in the world, they are particularly prevalent in Asia and the Pacific region where more than 11 million people are in forced working conditions. Unfortunately, the problem doesn't stay confined there. Materials and goods produced across this region eventually make their way into the global marketplace. Other businesses and consumers unknowingly (and sometimes knowingly) end up making purchases tainted by slave labor or child labor, which only fuels the vicious cycle.
What will it take to eradicate human rights violations in the supply chain? There is no easy answer, but it will certainly require the combined efforts of governments around the world, as well as the cooperation of businesses who import materials and goods originating from high-risk areas.
Atrocities in Xinjiang spur action
The U.S. government has recently taken strong steps with the Uyghur Forced Labor Prevention Act (UFLPA). Signed into law by President Biden on Dec. 23, 2021, the ULFPA is designed to prevent goods made wholly or in part with forced labor in the Xinjiang region of China from entering the United States.
Located in Northwest China, the Xinjiang Uygur Autonomous Region is a massive territory that's rich in natural resources. The area supplies global supply chains with significant amounts of important industrial materials, as well as agricultural products—like the polysilicon used in solar panels and the cotton for Western apparel. And the target list continues to grow as evidence is collected from third-party sources, which now includes aluminum products and products made with PVC. However, the region is also fraught with state-sponsored oppression and human rights abuses.
In recent years, the Chinese government has committed crimes against humanity, such as imprisonment, torture, surveillance and forced sterilization. These horrific acts target the Uyghur people, a predominantly Muslim ethnic minority, as well as members of other mostly Muslim minorities in Xinjiang.
Since 2017, the Chinese government has involuntarily detained more than 1 million Uyghurs in forced labor camps, while separating families and sending others to work in factories throughout China. With forced labor so prevalent, it's highly likely that any goods coming from the region are products of the severe exploitation of the Uyghur people.
The United States officially condemned China's actions, and on June 21, 2022, the U.S. Customs and Border Protection (CBP) began enforcing the UFLPA. As part of the act, the Forced Labor Enforcement Task Force (FLETF) developed and published the UFLPA Entity List which identifies specific companies and products affiliated with forced labor in Xinjiang. The list includes four groups:
● Entities in Xinjiang that mine, produce or manufacture wholly or in part any goods, wares, articles and merchandise with forced labor.
● Entities that work with the government of Xinjiang to recruit, transport, transfer, harbor or receive forced labor.
● Entities that export products made by the groups listed above from China into the United States.
● Facilities and entities that source material from Xinjiang or from persons working with the government of Xinjiang for the purposes of any government-labor scheme.
CBP is working to identify any goods produced or exported by entities on this list, and then prevent their entry into the United States. Any finished goods made by other manufacturers using inputs from entities on the ULFPA Entity List are also prohibited from entry.
4 tips for UFLPA compliance
Complying with the UFLPA may seem straightforward: if a product touches Xinjiang in any way, it can't enter the United States. Yet, today's supply chains are highly complex. Importers often struggle with limited visibility upstream—as well as inefficient supply chain practices within their own organizations—making it a big challenge to navigate regulatory requirements.
Here are four tips to help importers get on the right track towards compliance with the UFLPA:
Know the rules
Essentially, UFLPA enforcement operates on the principle of "guilty until proven innocent." The act establishes a rebuttable presumption that all goods mined, produced or manufactured wholly or in part in Xinjiang, or by entities on the UFLPA entities list, are a product of forced labor—unless importers can prove otherwise.
When importing goods that fall under the scope of the UFLPA, businesses must provide documentation demonstrating that:
● The importer has complied with due diligence guidance set forth by the UFLPA
● The importer has responded completely and substantively to all CBP requests for information
● The imports were not mined, produced, or manufactured wholly or in part with forced labor
Alternately, importers may request an exemption backed definitive evidence that their goods are not subject to the UFLPA.
By understanding and proactively compiling the evidence they'll need, importers will be well-prepared to quickly respond to any UFLPA enforcement actions.
Know the risks
It's important to know what's at stake if a business is found in violation of the UFLPA. After all, understanding potential negative business impacts often spur company leaders to prioritize compliance.
If importers can't provide the proper documentation, their shipments may be subject to seizure and forfeiture. Businesses found in violation of the UFPLA may also face severe civil and criminal penalties.
Beyond that, businesses that violate the UFLPA violations face even wider repercussions. Today's consumers demand companies take greater accountability for their social and environmental impacts, and any associations with forced labor mean major damage to a brand reputation and loss of business.
Know your partners and products
Under the UPFLA, companies must conduct heightened due diligence to ensure they do not work with any external partners or purchase any goods connected to forced labor. Since importers often only have visibility into their direct suppliers, these connections are not always obvious. For instance, an importer may know what country its direct suppliers source goods from, but not how or where that supplier produces its materials.
That's why it is so critical for companies to establish a strong trade compliance program. This should include conducting thorough supplier screenings and risk assessments, identifying and mitigating any existing violations as early as possible, and continuously monitoring for ongoing compliance.
Know how technology can help
CBP has announced its plans to adopt enhanced supply-chain tracing technologies that support UFLPA enforcement. Likewise, importers should explore how technology can help their own organizations perform effective due diligence, minimize risk and ensure that they have all the proper documentation to satisfy compliance requirements.
A great tool to consider is automated global trade compliance software. These software solutions can ease the burden on importers by automating:
● Restricted party screening, ensuring any selected supply chain partners are low risk
● Supplier relationship management, making it easy to improve supplier selection, monitor performance, and organize all supplier compliance documentation
● Import management, preventing costly delays and ensuring goods quickly clear through CBP and other government agencies
● Global trade compliance analytics, generating real time insights into compliance processing and helping businesses make fast, smart decisions to support overall trade compliance
Staying on top of ever-changing regulations
Regulatory requirements surrounding acts like the UFLPA are not written in stone. Rather, they are constantly evolving as geopolitical situations change, as new information emerges, and as new technology becomes available. It may feel overwhelming for importers trying to keep up with it all. But through heightened due diligence, a strong understanding of their supply chains, and the right supporting technology, importers can do their part in the fight to eradicate human rights violations around the globe.