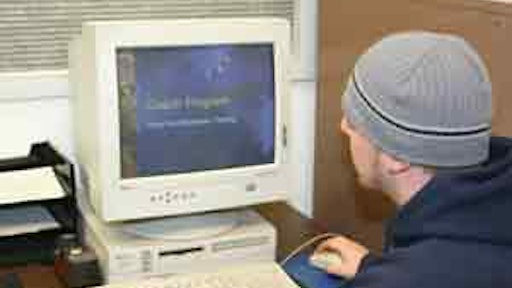 Five years ago, Unified Western Gro-cers, the largest grocery wholesaler in the western United States, needed help in reducing the number of employee injuries it was seeing in its warehouse.
The company, which has 1 million square feet of warehouse space and more than 390 employees, had begun to see the rising costs associated with employee injury as an issue it needed to deal with. Unified turned to Select Inc. for guidance.
Seattle-based Select is a human resource consulting and risk management firm that has been helping warehouses keep employee injury levels to a minimum, as well as working with them to contain the costs associated with on-the-job injuries.
"We brought them in to run our Transi-tional Duty Room (TDR)," notes Cary Gable, director of the Northwest region, for Unified. The company's Transitional Duty Room is a separate location, within the facility, that Unified runs its new hire training and employee retraining programs out of. Employees who have been placed on work restriction report there every day, until they can be transitioned back into Unified's normal work force.
Like most companies, Unified assigns the standard light duty work assignments for its injured workers. "We might have them do cycle counts," Gable says. "We might have them painting ballards." (Those ever-present yellow cement bumpers you see in a warehouse.)
"The problem is that it significantly impacts morale," says Geoff Rodgers, vice president of business development for Select. "Because, if I'm faking a shoulder injury, the chances are that my co-workers know it and the company might even know it. Other workers become angry that their co-workers are milking the system."
Unified knew more would have to be done with its injured workers than just put them to work scraping old labels off of racks, especially if they wanted to get injury levels under control. It also wanted Select to help it avoid future injury claims. "We wanted them to manage the TDR room, but we also wanted them to help reduce the number of worker's comp claims and injuries," says Gable.
"One of the biggest challenges," says Rodgers, "is that you've got varying sizes and weights of products in racks anywhere from five to six feet high. Workers need to gather these products and stack and build a pallet in an order that makes sense, from heavy to light, so that they don't crush a lot of products."
There's a great deal of bending, twisting and pulling involved in this, which can lead to injured lower backs and strained muscles; soft tissue injuries.
Select gets involved from the very beginning, when an employee is first injured.
"We have medically trained people at Unified," notes Rodgers. These personnel will examined an injured worker and do a quick triage. If the injury doesn't warrant immediate hospitalization, they get the employee stabilized, apply ice or heat compresses and begin to ask questions about how the injury occurred.
"The injured worker doesn't get to go home and report back in two weeks when the doctor releases them," Rodgers explains. "They stay on site. We accommodate their work restriction."
Preventive Medicine
Since the inception of their relationship, Unified has worked with Select to establish a number of programs designed to transition injured workers back to work and help ensure they don't re-injure themselves.
"They do a lot of classroom work, a lot of video training," Gable explains. "If they have back injuries they go through a correct lifting training, where they actually have to demonstrate how to correctly lift and build a pallet."
The company has geared specific training toward each type of injury.
The program has the injured worker go through a process that really identifies what went wrong. The goal is to get them to think about what they could've done differently to prevent their injuries and thereby, one worker at a time, change the culture of safety within the entire facility.
While this is going on, Select's people are communicating with the injured worker's doctor and reporting back to the employer as to when the worker will be able to return to work. In this way they bridge the communications gap, avoid any confusion as to worker status and help transition them back to work faster.
Unified decided one of the best ways to prevent accidents was to take steps to ensure they never happen in the first place.
"We perform new hire training," explains Rodgers. "We spend time explaining the safe work methods and we show them the correct ways to lift, in addition to the OSHA requirements." This initial training is part of an ongoing relationship that Select and Unified strive to maintain with the workers. "When they come to the TDR for an injury," he adds, "we discuss what we talked about in the initial new hire training, so we build upon that."
One of the keys to the program's success is continual evaluation on everyone's part. "We jointly put together a coaching program where we go out and do audits of employees and their work behaviors," says Gable. Select watches every employee at the warehouse, auditing their lifting and safety techniques and assigning them a safety scorecard.
If the employees fall below a certain predetermined threshold they have to go through a retraining program. "We bring an understanding of safe work methods to the work force," says Don Maclardy, vice president of safety for Select.
Since its inception, the program has reduced worker-related injuries nearly 70 percent overall, saving Unified millions of dollars in insurance and replacement worker costs.
"We've had reductions for every year," Gable explains. "We're far below the industry standards."