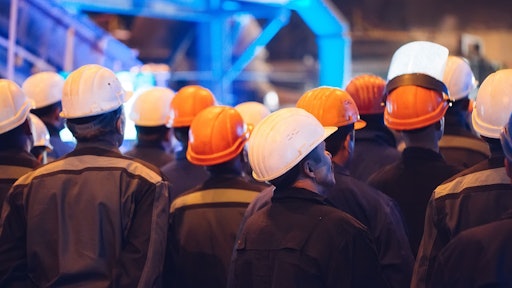 davit8 - stock.adobe.com
Demand for labor has outstripped supply and companies are facing what's been coined as the Great Resignation, also referred to as the Great Reshuffle, the Great Talent Migration and the "I Quit" movement. This movement has hit the transportation, distribution, logistics and warehousing sectors particularly hard, with the impact of worker-retention challenges and rising labor costs being felt across the entire value chain.
For example, the Port of Los Angeles lacks enough workers to unload goods from ships, causing shipping delays across the supply chain. And despite the current administration's FedEx and UPS announcements, the Port of Los Angeles would be open 24/7, the suppliers' on-time delivery rates continue to fall and the supply shortages still experience significant delays, driving further volatility in orders of everyday items like cream cheese and chicken wings.
Facing these challenges, supply chain companies must take more initiative to retain and incentivize employees to stay. This could include better pay, improved benefits, flexibility in how employees are paid or implementing the four-day workweek.
Following are some reasons behind the labor shortage in food logistics supply chain companies and how these businesses can become workplaces of choice by making themselves more attractive to employees.
Supply chain snarls continue
After federal unemployment benefits expired last year, many employers believed employees would quickly return to work, but, as we know now, many of these employers miscalculated. Many of the nation's workers were scared of catching the Coronavirus disease (COVID-19 or one of its variants, had children or parents to care for or returned to work, but in different jobs altogether.
For example, the United States faced a historic high 80,000-plus truck driver deficit in 2021, according to the American Trucking Association (ATA). If current trends continue, which includes an older population reaching retirement age and drivers leaving for other industries, the ATA estimates a shortage surpassing 160,000 by 2030.
To become more attractive, companies in the food and beverage supply chain must consider offering benefits that differentiate them from other workplaces, like removing many of the financial stressors employees often face.
Inflation hits vulnerable employee groups hard
The consumer price index – a key inflation index – reached a 40-year high of 7.5% over the last year. Consumer prices are surging for everything from gasoline to eggs to pork to fresh fish and seafood, which rose 40%, 13.1%, 14.1% and 12.7% respectively.
Inflation is rising faster than wages and it's affecting low-income employees the most. Further, compared to pre-pandemic times, there are 6 million more people filing for unemployment.
And while the labor shortage provides employees with more leverage to request higher wages and better benefits, many continue struggling to pay their bills, let alone save for a rainy day.
More than 7 million American households, about 5.4%, don't have a bank account. The top reason for being unbanked? Many lack the money to meet banks' minimum monthly requirements to avoid having to pay a fee.
Food and beverage supply chain companies that want to hire and retain top talent must look at all of the benefit options available to build more engaged workforces and help their employees manage financial realities.
Financial literacy + EWA help
Paying higher wages or implementing sign-on bonuses can help as well as providing financial literacy services. Financial literacy education arms people with the knowledge and skills needed to budget, pay bills on time, better manage their incomes and save and invest for long-term stability.
A part of the financial literacy program could even include an earned wage access (EWA) solution. EWA, also known as on-demand pay, provides instance access to wages so workers can tap into earnings quicker than waiting for a two-week or monthly pay cycle. With EWA, employees don't even need a bank account. Many solutions use an app to create a virtual or physical card that works like a debit card.
The 2021 EWA Impact Assessment found tapping into EWA solutions decreased employee stress by 77%. Further, 72% of workers surveyed said EWA helped them feel more in control and 55% said their budgeting improved. Reliance on predatory lending like payday loans went down with EWA, as did their need to use credit cards with their high monthly fees.
In sum, if you're in the food and beverage supply chain, including distribution and warehousing, demand for employees probably outweighs supply. And many employees or prospects could be unbanked and/or unable to pay their bills on time if at all.
If either or both sound familiar, perhaps it's time to bump up wages, revamp your benefits package by offering financial literacy education and upgrade how you pay. By offering an EWA solution as part of your benefits, you'll provide better financial support to employees and could be more likely to become an employer of choice.