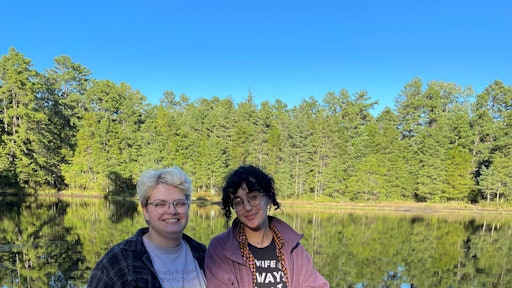 Hello Readers!
My name is Emry Lloyd. I was born and raised in South Jersey, but I have not lived here my entire life. I lived in Philadelphia for a couple of years after I went to college, and I quickly learned that I prefer New Jersey over any other place on Earth. I love to spend my weekends going to the beach and camping by Pakim Pond with my friends. Pakim Pond is beautiful because of how the trees reflect in the pond like a mirror. In the outdoors, you have to problem solve and go with the flow when things do not go according to previous plans. I believe everyone should try out camping at least once because it helps with a person's decisiveness.
I graduated from Rutgers in 2021 with my bachelor's degree in English and gender studies with the goal of working in the publishing industry. In my senior year of college while I was working on my bachelors, I was the senior editing coordinator of Wolters Kluwer and worked at Starbucks at the same time. My schedule was extremely busy because I was also an honors student, but I am satisfied that I worked hard in school because it paid off and I was able to graduate with no debt. I identify myself as somewhat of an overachiever as I like to shoot for the moon so I can land with the stars.
While I was at Wolters Kluwer, I managed their schedule, subject matter experts, clinical editors and two different publishing departments. I created program templates, worksheets and analyzed documents before final release. While I may not know anything about landscaping, besides mowing my family's lawn as a teenager, I believe that my skills from working as a senior editing coordinator for two years and my educational background will help me to be the best associate editor I can be. I am looking forward to getting to know our readers, reporting on new technology advancements and traveling. I am excited to learn and grow here, and I am looking forward to whatever is thrown at me in this field as I love a challenge.
I would like to thank Marina Mayer, Sarah Webb and Alexis Mizell-Pleasant for their warm welcome to the team and all of the information they have provided me with so far about my new role. Without them, I would not even be able to type this column out. If you would like to learn more about me, I can be reached at https://www.linkedin.com/in/emry-lloyd-40185320a/. or elloyd@acbusinessmedia.com.