Two of Food Logistics' articles placed third in the 2022 Logistics Brief MVP Award, which brings together the best content from hundreds of industry thought-leaders that includes useful and actionable information and is tactical or strategic in nature.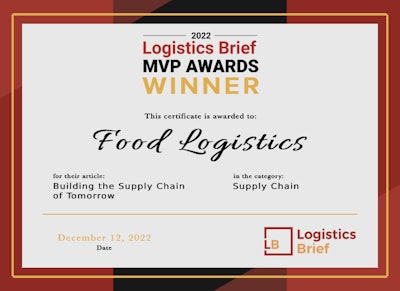 Building the Supply Chain of Tomorrow details how automation and emerging technology future-proof supply chains.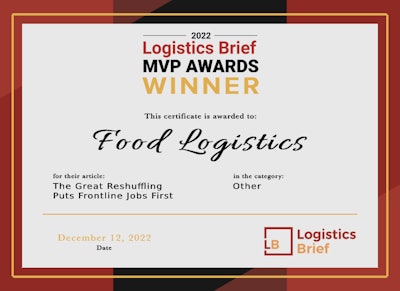 The Great Reshuffling Puts Frontline Jobs First outlines why the supply chain is now considered to be the pandemic's must-have college degree.
"It's such an honor to be a part of this award that recognizes the most valuable posts in 2022 in the supply chain space," says Marina Mayer, editor-in-chief of Food Logistics and Supply & Demand Chain Executive and author of both of the winning articles. "Thank you to those who voted for me, thank you to the industry experts who participated in the interviews and thank you to our loyal Food Logistics readers. I love what I do. I love providing a voice to the real industry experts in logistics. And then for that content to be recognized is just amazing."
CLICK HERE to learn more about the award, the winners and more.