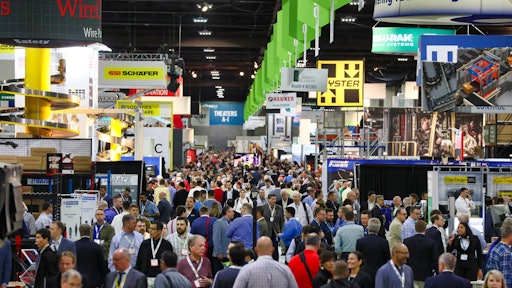 MHI
When attendees for MODEX 2020 register, they are asked to answer a variety of demographic questions indicating their industry, product interest, buying authority and spending plans.
Looking at attendees registered to date, MHI, the Charlotte, N.C.-based producer of the show, reports that they are high in quality from a buying authority perspective and represent the majority of the Fortune 1000 and Top 100 retailers and consumer goods firms.
Here are some highlights from current MODEX attendee demographics:
–51% are corporate or senior management
–25% are middle management
–84% have buying power
–61% buy for distribution centers
–44% buy for manufacturing facilities
–50% buy for warehouses supporting manufacturing
–32% plan on spending over $1 million over the next 18 months
–80% are coming to see new products and innovations
–61% are coming to network and learn.
When it comes to the solutions MODEX attendees are looking for, the top categories are:
–Automation and Robotics Equipment and Systems (54%)
–Conveyor & Sortation Equipment (46%)
–Automatic Identification & Data Collection/Radio Frequency Identification (40%)
–Fork Lift Trucks (40%)
–Packaging and Shipping Solutions (40%)
–Racks, Shelving and Storage Equipment (37%)
-Software Systems for Warehousing, Distribution & Logistics (35%)
-Information Systems & Controls (33%)
-Ergonomic and Safety Equipment (33%)