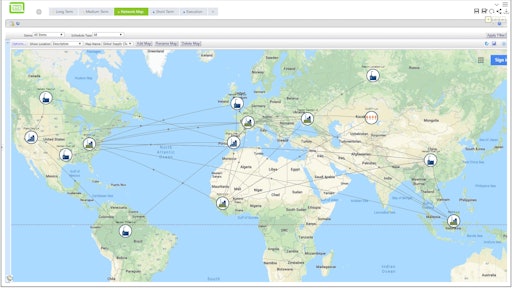 Logility
When it comes to adopting a digital supply chain network, one thing is certain—no company wants to be the weakest link.
Being the weakest link opens the doors to cyberattacks, fraud, employee risk and more. No more traditional pen and paper supply chains. Today, companies want real-time tracking, with visibility, traceability and reassurance that product is moving from Point A to Point B and then to Point C in a safe and efficient manner.
Enter the Digital Supply Chain.
From artificial intelligence (AI), blockchain and Internet of Things (IoT) to automation, robotics and Industry 4.0, the digital supply chain encompasses the transport of goods via electronic means.
"Digital supply chain is the next-generation concept to optimize the existing value chain with low cost and labor to meet the end customer's expectation in terms of timeline and experiences," says Sunny Mittal, consulting specialist, LogisticsIQ, Delhi, India. "It has to be conceptualized, designed and implemented with the help of emerging technologies like IoT, artificial intelligence, 3D printing, augmented and virtual reality, robotics and automation (AGV, AMR, AS/RS), 5G, digital twin, driverless vehicles, drones, etc."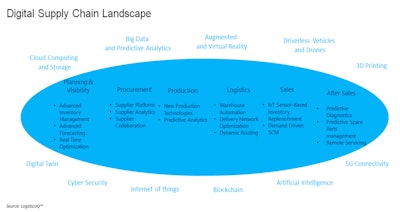 In a study published by LogisticsIQ, the digital supply chain market is expected to reach $75-plus billion by 2030, with technologies such as big data, AI and blockchain being the major drivers of growth. Plus, the demand for greater visibility and transparency in the supply chain leads companies to adopt a digital supply chain in order to achieve accurate asset tracking, improve inventory management, enhance predictive maintenance and establish a demand-driven network.
"E-commerce has become the biggest supply chain disruptor; 65% of respondents believe e-commerce will have a significant impact on their future transportation strategy," says Mittal. "Meanwhile, 29% of respondents believe e-commerce is the trend with the greatest impact on their transportation strategy today. Growth of e-commerce has led to increase in demand of motor carriers, 3PL, air freight and freight forwarding services."
Digitization is also an important facet to the global supply chain because it can fill massive gaps with IoT and other technologies, says Al Tama, vice president and general manager of container and port solutions, ORBCOMM, Rochelle Park, N.J.
"A good example of that is seen in ocean shipping, where unlike in over-the-road or rail and
intermodal operations, visibility into and management of refrigerated containers can be out of your control for weeks or longer," says Tama. "For a digital supply chain to work, there can be no gaps. From my vantage point, IoT solutions provide the gap fillers. It's the door sensors, temperature monitoring systems and container tracking devices that are filling the gaps that allow for a true end-to-end digital supply chain. Look at it like farm to fork. You can't call it farm to fork unless you know the entire path the food took before arriving at your table. Digital supply chain is the same way. You can't call it a digital supply chain unless you have complete visibility across the whole chain. From start to finish."
That's why ORBCOMM developed VesselConnect, which enables local and remote management and control of refrigerated containers on board a sea vessel. This solution helps ensure cargo integrity and reduces operating costs by allowing crews to locally monitor temperature, humidity, location and slot position, reefer status and more. VesselConnect can also be synchronized through the cloud for remote land-based access, and virtually eliminates the need for manual checks, enhancing efficiency and minimizing risks to crew, especially in inclement weather.
Meanwhile, there's an increasing demand for accurate, real-time data.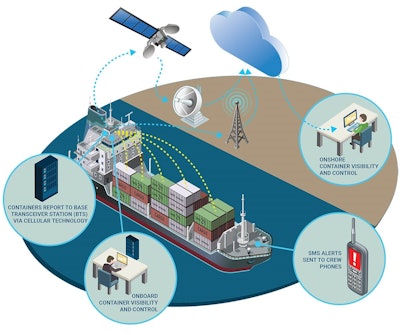 "For example, customers—whether consumers or B2B customers—used to be willing to accept delivery times that were vague or inaccurate. Now, they want to know exactly when their products are arriving; some retailers demand delivery ETA accuracy of 30 minutes or less, and will fine suppliers if they fail to hit their assigned delivery windows," says William Salter, chief executive officer of Paragon Software Systems, Dallas. "Food distributors need to meet the demand for shorter lead times and provide a better service experience for their customers."
At its core, the digital supply chain is about driving dramatic performance improvements and providing transparency and efficiency improvements across the entire business in order to meet the demands of today's modern customer.
"It's a complete integration of the disparate parts of a business to provide transparency and efficiency improvements across the entire business," says Greg Balestrieri, co-founder and CEO of Green Rabbit, Braintree, Mass. "The digital supply chain entails the use of advanced technologies to optimize traditional supply chain processes. This includes sensors and IoT, advanced analytics on big data, robotics to automate processes and more."
The other benefit to implementing a digital supply chain is being able to optimize inventory levels.
"Key to this is being able to better plan for 'long-tail' items with lumpy, variable demand patterns," says David Barton, general manager, North America for ToolsGroup, Boston. Many companies also report being able to free up planner capacity to do more interesting and valuable 'human' work and a general improvement in planner morale.
Likewise, a digital supply chain is capable of supporting the broader digital business.
"For example, in retail where digital has made omnichannel possible, the supply chain must manage demand from online as well as from physical stores. In a heavy truck where equipment is now monitored using IoT, the supply chain must use that data to predict demand for spare parts and service. In both of these industries, the fulfillment operation must be sufficiently agile to ship single orders within shorter lead times," says Mike Burkett, research vice president distinguished analyst for Gartner, Inc., Conn.
What's more is, the digital supply chain uses AI, IoT, cloud autonomous machines and other digital technologies to improve supply chain visibility, predict demand or supply disruptions and improve the speed and cost-effectiveness of the supply chain.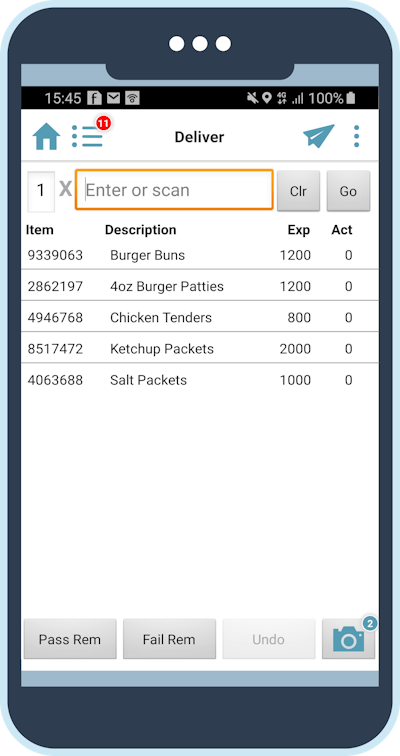 Some companies have gone as far as implementing a supply chain digital twin (SCDT), which can be part of or an extension to an existing supply chain planning system of record that sits at the heart of any planning platform, according to Henry Canitz, director product marketing and industry strategy for Atlanta-based Logility.
"Using a dynamic SCDT to visualize the state of your supply chain is a powerful way to monitor and analyze your supply chain operations," he adds. "An SCDT contains up-to-date information on capacities and transactions. As new events take place, for example, a new customer order or a delayed replenishment, we can utilize AI to quickly determine an optimal response. Depending on the action to be taken, the system can involve a planner or execute on its own. Continuous planning and optimal response capabilities often lead to reductions in costs (manufacturing, inventory, transportation) and improvements in customer service (fill-rates, cycle-times)."
The downfall of going digital
While the impact of digital supply chains continues to create excitement in the industry, it also presents confusion.
For instance, a 2017 Gartner survey revealed that 75% reported concerns about the governance of digital projects, and 36% of supply chain organizations say their own digital projects don't align to them.
A more recent Gartner study revealed that 80% of supply chain blockchain initiatives will remain at a proof-of-concept or pilot stage through 2022.
"We see some supply chain leaders get enamored by the technology and lose sight of how it applies to the supply chain operating model," says Burkett. "The maturity of some of these digital technologies is still early and emerging. Blockchain, for example, is still very much in the experimental and piloting stages with few deployments at scale. We see some supply chain leaders pursue a blockchain initiative to solve supply chain challenges that could be better done with more mature cloud visibility platforms."
Despite its connotation, a digital supply chain isn't just about technology, says Barton.
"Building and running an effective digital supply chain is a transformation that applies equally to people, processes and tools. At its heart, there should be an advanced planning engine capable of modeling a supply chain, factoring in a wide range of internal and external variables and making optimal recommendations for inventory safety stock levels, replenishment and other planning decisions. These systems typically use advanced algorithms and/or machine learning to detect trends, outliers and make complex trade-offs," he adds. "Since digital supply chains are highly automated and intelligent, the people involved in planning are liberated from having to pore over spreadsheets, carry out repetitive manual tasks and firefighting. Also, more people can be involved in digital supply chains, including external partners and even customers. Blockchain is a key technology that provides role-based data security and access to really enable this."
Likewise, automation doesn't automatically lead to best practices.
"For example, using electronic job management software to manage the collection of empty trays and other assets ensures items like this can be tracked accurately, minimizing losses. Collections can also be scheduled into normal delivery operations to reduce empty running and cut the costs and carbon emissions associated with truck miles," says Salter. "A digital supply chain provides vastly improved levels of visibility and control, but this is heavily dependent on the accuracy of the organization's data and the degree of integration achieved."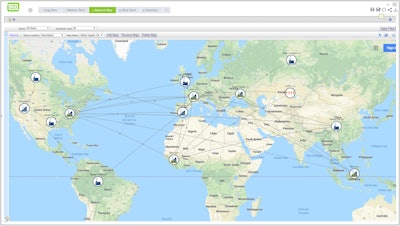 Plus, implementing a digital supply chain takes time, resources and extensive training. It's not a simple quick fix-and-run decision.
"It takes time to learn to trust the tool," says Barton. "This is one of the main reasons some hesitate to implement a modern planning tool."
A new study by ToolsGroup and Spinnaker, Troy, Ohio, found that only 7% of companies are reaping the benefits of digital transformation of supply chain planning.
Fear of change is the leading obstacle to implementation of digital planning (30%), with data quality/lack of data (25%), aversion to risk (24%) and people/skills deficits (23%) close behind.
"Faced with so much complexity and uncertainty, companies are feeling the pressure to transform to digital supply chains. Advanced, automated planning systems can actually help companies thrive on chaos, enabling them to achieve industry-beating service levels while reducing inventory, logistics costs and obsolescence/waste costs," says Barton. "I would argue that it's the radical changes in the food and beverage industry that are affecting, or indeed driving, the need for supply chain digitization rather than the other way around.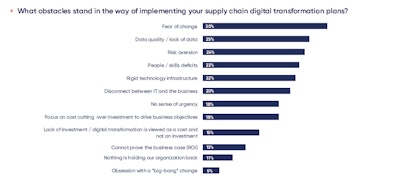 Regardless, digitizing a supply chain extends beyond just the supply chain itself. It involves the people, processes and technologies. It's realized from top down, start to finish. And, when implemented properly, it can lay the foundation for continuous planning.
"Digitization is not the final step," says Canitz. "Rather it is the first step in the next evolution of supply chain planning. Digitization provides the means for immense leaps in supply chain efficiency and effectiveness that can drive cost reductions, open up new market opportunities, reduce supply chain risk and enable huge improvements in customer service capabilities."