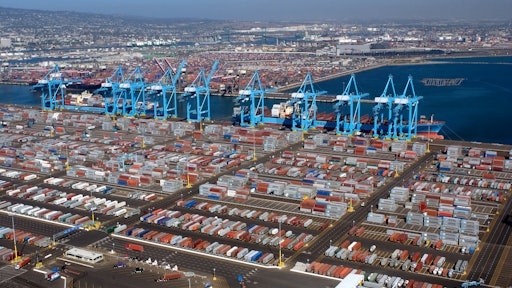 The amount of time it took the average truck driver to do business at the two largest North America ports rose six minutes year-over-year in May due to backups at Total Terminals International, according to data from the Harbor Trucking Association.
The total turn time was 84 minutes at the two Southern California ports. The Port of Los Angeles, No. 1 in North America based on annual container volumes, had an average of 82 minutes. The Port of Long Beach, No. 2, averaged 87 minutes.
HTA Executive Director Weston LaBar told Transport Topics that the increased delays were due to the new shipping alliances. Maersk Line and Mediterranean Shipping Co. formed the 2M Alliance, and Hyundai Merchant Marine signed on as a strategic partner. Maersk operates the Pier 400-APM Terminals complex in Los Angeles, and Mediterranean and Hyundai bought Total Terminals International in Long Beach last January.
LaBar said that Maersk shifted its business to the Long Beach complex since the alliance took effect on April 1. As a result, Pier 400's turn times dropped to 73 minutes from 93 minutes one year ago, but TTI's rose to 139 minutes from 99 minutes.
Read the full article HERE.