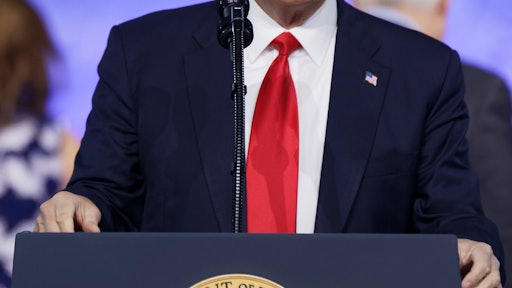 Following news reports that the Trump administration intended to begin the process of withdrawing from the North American Free Trade Agreement, or NAFTA, the White House said President Trump reassured the leaders of Canada and Mexico by phone that the U.S. had no immediate plans to do so.
The White House issued a statement that indicated Trump had spoken by phone with both Mexican President Enrique Peña Nieto and Canadian Prime Minister Justin Trudeau.
The full White House statement said:
"Late this afternoon, President Donald J. Trump spoke with both President Peña Nieto of Mexico and Prime Minister Trudeau of Canada. Both conversations were pleasant and productive. President Trump agreed not to terminate NAFTA at this time and the leaders agreed to proceed swiftly, according to their required internal procedures, to enable the renegotiation of the NAFTA deal to the benefit of all three countries. President Trump said, 'it is my privilege to bring NAFTA up to date through renegotiation. It is an honor to deal with both President Peña Nieto and Prime Minister Trudeau, and I believe that the end result will make all three countries stronger and better.' "
More information on Trump's NAFTA plans can be found HERE.