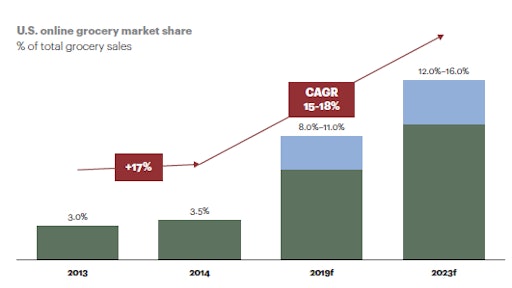 E-commerce has grabbed a bigger share of food sales, disrupting fulfillment strategies in the food supply chain. As retailing goes mobile, no product segment is struggling harder to adapt than food, according to an article in the September Food Logistics.
This year, grocery e-retail sales will hit double digits, according to research sponsored by Unata, an e-commerce platform. Where eight percent of consumers bought groceries online in 2015, that figure is expected to reach 17 percent this year.
To say that the food supply chain is dragging its feet in response to this change would be an understatement. Because of the complexity of overhauling distribution and logistics, the technologically-savvy "pure-play" online retailers, known in some quarters as "basket bandits," are eating the brick and mortar retailers' lunch.
According to the consultancy Brick Meets Click, the pure-play cadre, led by Amazon, has captured 84 percent of online grocery visits and 59 percent of online grocery spending.
Even with AmazonFresh still in a limited rollout, Amazon grabs close to half of all online grocery trips (48 percent), compared to 15 percent for mass and club retailer sites, and 21 percent for non-Amazon sites. The percentage of shoppers that have bought groceries from Amazon in the past 30 days has jumped 25 percent since 2013.
To read the full article, please click here.