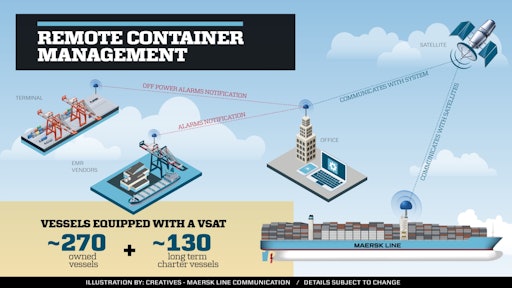 Enhanced visibility and control are critical benefits for temperature-sensitive ocean cargoes, which is why leading carriers are investing in real-time container tracking solutions, according to an article in the August Food Logistics.
In 2015, Maersk Line began rolling out a new technology, remote container management (RCM), designed to offer real-time tracking of refrigerated containers and monitor the temperature, humidity and other conditions inside the "reefers" to improve cargo care and expedite pre-trip inspections.
Already, the carrier has equipped 270,000 reefer containers with remote container devices that utilize a 3G SIM card, a GPS unit and an antenna. In addition, about 400 vessels have been outfitted with a VSAT dome, which transmits data gathered from the reefers to a satellite.
The data offers a number of benefits for Maersk Line and its customers. For instance, if an alarm is triggered by a reefer container, a notification is automatically sent to the shipper or related parties so they can take immediate action to protect the cargo.
"RCM provides data on the container, including its location, power status, temperature, humidity and ventilation settings. This data allows us to act quickly when it comes to exception handling, so that we can maintain and prioritize perishable goods at any point in time and as needed," states Maersk Line.
While the technology provides real-time monitoring of time- and temperature-sensitive cargo, in turn helping reduce spoilage, damage and loss of food and pharmaceutical shipments, RCM also gives Maersk Line considerable intelligence about the condition of its reefer fleet.
For example, when it comes to pre-trip inspections (PTIs), "We are able to determine the condition of the container upon arrival, so it's only sent for a PTI when needed," states the carrier.
To read the entire article, click here.