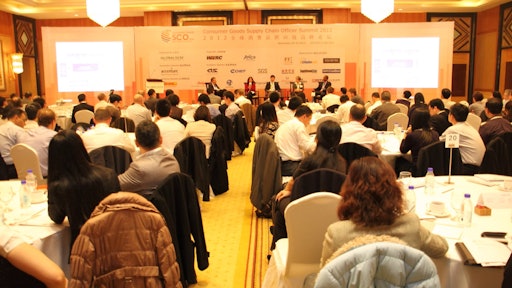 GlobalSCM Group announced that about 180 representatives from 18 countries and regions including China, USA, Hong Kong, Australia, Canada, Singapore, Malaysia, Germany, Britain, Belgium, Switzerland, France, Thailand, Philippines, Nigeria, Korea, participated in the conference, Consumer Goods Supply Chain Officer Summit 2012, on Nov 28-29 in Shanghai, China.
Summit theme this year is "What is the key to rethink supply chain configuration in the volatile market, today and in the future?" So the two-day program addresses volatility and corresponding risk management; suggest further ways of achieving the much sort after integration and end-to-end alignment and driving our global supply chains.
Delegates were excited to hear from 25 high profile supply chain experts, who reflected upon the major issues in today's global volatility.
The conference not only provided a platform of strategic information exchange, brainstorm and panel debate but created a great cross-border networking opportunity during the 2 days. Through the sharing and discussion of collective wisdom, they close in on finding solutions to cope with the new dynamism in the next decade and forward.
With the great support by WERC, APICS, Accenture, CTS International, CHEP, SGS, DHL, Checkpoint, Geodis, Cognizant, iChainnel, "CGSCO'12 is a great summit to share the info, idea, mythology, experience together and get to know the supply chain experts from all around the world."
Evaluation forms revealed that:

74% of delegates felt the conference was very good and 19% was excellent.
91% thought that they would attend next year.
89% of delegates and sponsors thought that the conference was very good value for money and 6% thought it was good value for money.
78% of delegates commented that the conference exhibitions were attractive and 13% commented that it was good.