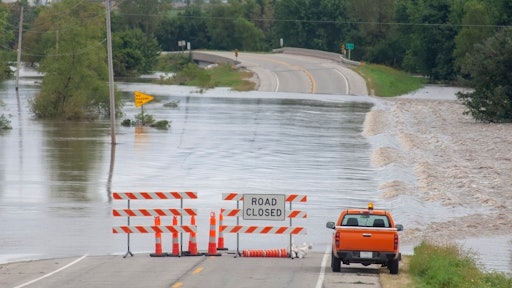 Michael Rolands/stock.adobe.com
If the last couple of years taught us anything, it's that no supply chain is risk-free and that visibility into where products and goods come from is essential to a resilient supply chain. Gone are the days of flying blind. Yet, while COVID-19 induced lockdowns and labor shortages thrust the fragility of the supply chain into the spotlight, there are still scores of other risks companies need to consider. One key risk area worthy of consideration? Extreme weather events due to climate change.
From severe heatwaves, fire-ravaged and drought-stricken regions, record-breaking tornado strikes, to catastrophic flooding, headline-creating weather events are setting new records year after year. Climate change is leading to the higher frequency and severity of weather disruptions. In 2021, Resilinc reported over 800 weather-related events; that number was up 130% from the year prior. These events are wreaking havoc on supply chains. The data shows that last year alone, disruptions due to hurricanes and typhoons affected over 123,000 supplier sites and impacted over half a million parts. More recently, an incident of rain and flooding in Southeastern China impacted over 12,000 sites, affecting the production of over 64,000 different parts.
Supply chain practitioners need to weigh the risks that weather-related impacts could potentially have on their supply chain networks. This includes understanding which types of weather events could potentially affect each site in the supply chain; which sites have the highest exposure in terms of revenue impact; and whether the site has an appropriate business continuity plan in place to protect operations.
According to a recent study Resilinc conducted with the University of Maryland's Supply Chain Management Center and Earth Systems Science Interdisciplinary Center, only 11% of supply chain sites are fully prepared for disruptive weather events due to climate change. The study, which included supply chains of 100 original equipment manufacturers (OEMs) in the high tech, auto, and consumer goods industries, spanning first- and second-tier suppliers across 12,000 U.S., Chinese, and Taiwanese production sites also revealed:
Half of the sites are at high risk of being hit by storms, flooding, heatwaves, droughts, and fires.
80% of all sites in the U.S. and 48% of all sites in China and Taiwan have either no business continuity plans or alternative manufacturing sites lined up.
Of these, 72% of U.S. sites and 38% of sites in China and Taiwan are critical 1st and 2nd-tier sites whose disruption would gravely impact OEM revenue (they are high-revenue-at-risk sites).
Reducing climate risk in your supply chain
In order to stay ahead of potential disruptions or risk, companies are turning to technology, data and best practices to make their supply chains more resilient.
So, where to begin? For starters, the critical reminder here is that you can't fix what you can't see. Having visibility and transparency into your end-to-end supply chain backed by actionable data is vital. This all begins with multi-tier mapping.
Mapping
Mapping out your entire supply chain, down to the site and part level, gives you not only critical insight but also an upper hand when a weather event strikes. This type of multi-tier visibility provides a complete picture of the entire supply chain, including what countries and factories you source commodities, parts, and materials from. It also enables effective decision making about site-level risk related to factors like revenue at risk, or in the case of this next example, patient care:
In 2017 Hurricane Maria struck Puerto Rico which was (and still is) an epicenter of manufacturing sites for healthcare products. One particular product includes mission-critical IV mini-bags, which are used to administer intravenous medications in a finely controlled manner (the alternative is a nurse with a needle and syringe to deliver the goods: a costly and time-consuming option).
When the hurricane hit, many companies discovered that just one site produced all the mini- bags manufactured for the American market, and the site was down. Because of this, around 70% of U.S. patients received delayed service. A costly disruption.
However, with multi-tier mapping, supply chain executives can fully see and understand these production interdependencies in ranking the strategic priority of a site. And when disruption inevitably occurs, companies have data at their fingertips to pivot, find an alternate site, and continue business with far less inventory/revenue loss.
Event Monitoring
Another critical factor in weather-proofing your supply chain is monitoring. This means having a real-time pulse on any events that could cause a potential issue or supply disruption. There are a handful of technology-based supply chain risk-monitoring services available that monitor billions of news and social feeds across hundreds of countries and languages, and then issue alerts related to events that may cause trouble. Things like heatwaves, tornado strikes, flooding, and earthquakes. Companies can take advantage of AI to step up mitigation efforts to sense and respond to weather-related threats in real-time.
Assess Supplier Risk
A final best practice to help offset climate risk-related weather events is knowledge about how your sites and suppliers stack up when it comes to preparedness. This should be done via ongoing supplier risk assessments; best practices include:
Survey and score suppliers specific to their weather-readiness practices. This might include hurricane preparedness or site BCP risk.
Highlight or note which suppliers have strong practices in place. This way you can single out those suppliers that may be more vulnerable and potentially cause issues.
Work with the at-risk suppliers to develop joint plans to close gaps and ensure limited exposure to any trouble. If the risk is too great, it may make sense to terminate the relationship and find a new supplier.
Be sure to maintain active tracking of and report on whatever mitigation plans you have in place to close gaps.
Whether it's for business expansion plans, to qualify a new supplier or transparency of your current network, organizations that are embracing mapping and monitoring of the supply chain are weathering storms, wildfires, and floods in ways that companies flying blind cannot. Forward-looking along with knowing in real-time when weather-related supply chain disruptions occur, the likely impact of the disruption, and how to mitigate it saves companies millions of dollars in otherwise lost revenue.
Let's consider the ongoing shortage of semiconductors for a moment. Companies are turning to reshoring manufacturing sites here in the U.S. to help relieve current constraints. GlobalWafers proposed building a facility in Texas, while TSMC has a site under construction in Arizona. But did you realize that it takes over 2,000 gallons of water to produce a single microchip? The world's largest contract chipmaker TSMC uses more than 150,000 tons of water per day. The issue of how much water is required in chip manufacturing certainly gets amplified when set against the backdrop of a water crisis. Given that Texas, Arizona, and much of the West are stricken with drought, is this manufacturing plan sustainable in the long term?
Extreme weather disruptions due to climate change are not going away. Using actionable data to identify risk allows for effective decision-making in the moment and for the future. Now's the time to incorporate technology-based supply chain risk management tools.