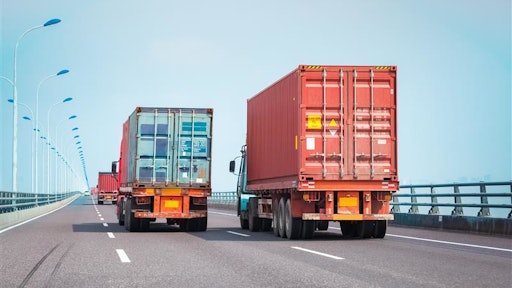 chungking/stock.adobe.com
In just the past five years, the supply chain industry has seen massive changes in how its processes work across the entire sector. With the proliferation of online retail, the demand for fast delivery has increased significantly. According to a Grand View Research report, the global e-commerce market is expected to grow at a compound annual growth rate of 14.7% from 2020 to 2027, meaning that demand for door-to-door shipping services is only going to accelerate.
While industries across the board grew alongside the e-commerce boom, nothing could prepare the supply chain for the unprecedented impact of COVID-19. When the world went into lockdown, the demand for individual deliveries grew, and U.S. e-commerce sales climbed to more than 30% from 2019 to 2020, according to the U.S. Department of Commerce. The supply chain had never experienced that kind of growth in such a short time, so adjustments were imperative.
With the supply chain disruptions of 2020 came a renewed focus on e-commerce and its impact on the trucking industry. The e-commerce boom forced logistics companies to change their operations to tackle the increased number of packages. In 2022, less-than-truckload (LTL) companies are still trying to figure out the best strategies to navigate this new supply chain model and boost operational efficiencies, whether through increased focus on final-mile deliveries or opening distribution centers near critical urban areas.
Fielding the impact
The rise in online shopping has had significant ramifications throughout the entire transportation and logistics industry, particularly on LTL services. Online shopping has considerably restricted the shipping capacity because of the increased demand. Additionally, it has completely altered parcels transported via distribution networks. Shipment routes had to become shorter and more frequent to meet customer needs. Package volumes soared and pushed networks beyond capacity. LTL companies had to raise their budgets for fuel, extra help and new equipment to field the incoming orders. Mitigating these costs has been challenging, especially with a fluctuating economy.
E-commerce also created greater customer expectations, and free and fast delivery became the new standard. The shipping industry needed to adjust how it moved and distributed shipments to keep up with customers' expectations. Customers and retailers expected quick delivery and complete visibility into the package's arrival time. In the past, LTL updates would typically be provided at pick-up, when the shipment passed through a major hub and then upon delivery. LTL and 3PLs had to alter their tracking systems and figure out ways to offer timely updates on the status of shipments.
While the logistics industry has faced a nationwide shortage of truck drivers for years, the e-commerce boom only amplified that hurdle and left companies without enough help to field the deliveries. Shippers and carriers still face challenges with hiring and retaining qualified drivers because of the heightened pressure that has come with skyrocketing demand. Companies had to get savvy with their hiring initiatives and increase benefits to attract good talent.
Although it's been a challenging few years, LTL companies have proved they can handle increased demand and build resilient strategies to adapt to a new supply chain model.
Moving forward
While it wasn't an easy task to accommodate this influx of orders, the LTL sector got creative and developed strategies to alleviate pain points. Industry leaders saw this as an opportunity to expand service, increase profits and ultimately secure customer trust. LTL shipping is now playing a massive role in e-commerce logistics mainly because of its network flexibility and agility.
The LTL sector adapted to new e-commerce demands by reevaluating delivery models and making changes as necessary. The increase in frequent small shipments was challenging to combat because many shipment destinations lack infrastructural facilities like loading docks and are located in remote areas. However, LTL carriers are navigating this issue by optimizing their last-mile delivery and strategically opening service centers to make deliveries to these locations faster – all while maintaining customer satisfaction.
Quick delivery has also been vital for service restructuring. LTL carriers were required to field massive amounts of orders with tight turnarounds. To make these changes, it was essential to identify areas within the company where truckers could move more swiftly. Some carriers also created pick schedules that take various locations' dwell times into account and deprioritize and remove those locations. By minimizing dwell time, carriers can get in and out of facilities faster, leading to faster deliveries and allowing drivers more time to make multiple stops.
E-commerce fundamentally reshaped the supply chain, challenging LTL companies to redesign their transportation and warehousing networks to accommodate customer demand across multiple channels. These changes in strategies have led to some benefits for LTL freight shipping, such as less expenditure, more accurate shipment tracking and a fruitful opportunity to grow and expand into a broader market. Most importantly, the e-commerce boom has taught the trucking industry how to further practice resiliency in unexpected circumstances and anticipate and prepare for future challenges.