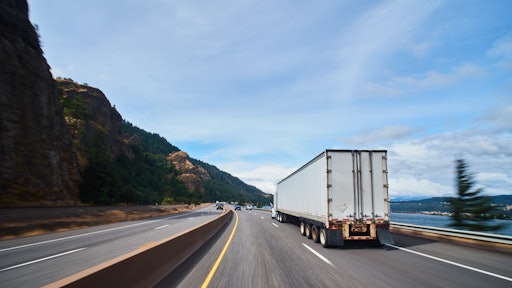 maxwellmonty/stock.adobe.com
During his campaign and again more recently, President Biden has repeatedly emphasized the need to hire more truck drivers to mitigate supply chain issues, even going so far as to expedite the issuance of CDLs to get more drivers behind the wheel. While he is correct that skilled drivers are the backbone of American freight transportation—and a critical element in the overall economy—hiring more drivers won't solve the problem.
In fact, it may create worse economic woes in the long run.
Within the industry, it's widely known that freight demand ebbs and flows, and the supply chain disruptions over the last 24 months are a result of that cyclical demand. Certainly, the pandemic exacerbated shortfalls with drivers out sick and shifting consumer patterns— restaurants closed, leaving grocery stores the only place for consumers to spend money, for example, freight shifted dramatically from food service to food retail.
But there have been other factors at play as well, namely drivers demanding better job satisfaction, work-life balance and more time at home. That's why, despite hefty salary offers and hiring incentives, many OTR carriers still struggled to attract talent. Drivers simply aren't willing to be gone for days or weeks at a time, leaving them thousands of miles and days away from their families in the event of a crisis.
As most of the trucking industry knows by now, the hauling capacity shortage is over. Instead, we're seeing an oversupply of capacity. Demand is collapsing and rates falling. It's a mistake at this point for carriers to expand their fleets or their workforce, as they're likely to be stuck with idle trucks and drivers.
It's been well-documented that previous declines in freight industry demand have predicted economic recessions, sending many carriers into default or bankruptcy. With demand bottoming out now, flooding the market with new drivers doesn't do anyone any favors—especially drivers who may likely find themselves laid off in the very short term.
The right path forward is to automate the industry to enable capacity on demand, optimize routes and provide more attractive and satisfying jobs. By overcoming major inefficiencies in the system, automation can create a more stable freight system that benefits shippers, carriers, drivers and consumers. Here's how:
1. Capacity on demand
Freight scheduling is one of the biggest stumbling blocks in the industry. Drivers are often forced to wait for loading/unloading and dock time, often sitting idle between pickup and delivery because of schedule misalignment. With driver compensation tied to mileage, they don't get paid for sitting—but that time counts against their regulated hours. For every minute they sit waiting, that means less freight moving and higher cost for shippers and carriers and less time behind the wheel and lower earnings for drivers.
By automating capacity planning, shippers, carriers and drivers benefit from a capacity-on-demand approach. Software ingests all of the data around freight, dock scheduling at both shipper and receiver and driver availability to churn out the optimum schedule and logistics for maximum time management, and driver and resource utilization. This playbook for efficiency helps move the most freight with the most effective use of capacity, reducing time and resources wasted and maximizing driver time behind the wheel. That means drivers can earn more without costing shippers and carriers more.
2. Route optimization
Finding the most efficient route from origin to destination can be a moving target. Traffic accidents, construction and weather can all make an impact. Too often, drivers are left to their own devices to find the best routes, using Google Maps or other commercially available GPS wayfinding systems. This leaves far too much to chance, and often results in trucks sitting idle in traffic or drivers being forced to reroute, causing delays in addition to added fuel costs, emissions and even a potential towing bill.
Automated route optimization eliminates the guesswork by providing drivers the safest, most efficient route based on a wealth of data, including traffic patterns and road conditions. This can help them avoid bottlenecks and keep from going over on their road time, which maximizes efficiency and wages, while reducing the risk of fines for overages.
3. Autonomous middle mile
One of the biggest issues when it comes to recruiting drivers—and in controlling freight costs—is the long haul. Today's drivers don't want to commit to days or weeks on the road away from their families with no quality of life. They want reasonable hours and respectable compensation for their time behind the wheel.
Deploying autonomous trucks for middle-mile hauling—the long stretch between an origin and destination terminal—can solve that problem for drivers, while giving carriers and shippers a much more economical, predictable option. Autonomous trucks don't have the same regulatory or lifestyle restrictions as drivers, which means they're available 24/7 on-demand. And instead of eliminating driving jobs or displacing drivers, autonomous middle mile actually provides better, more satisfying and desirable jobs for drivers where they simply shuttle loads between the terminal and loading dock. They enjoy a predictable work schedule, being home every night and compensation for every minute worked.
Trucking is an elastic industry that demands elastic solutions. While the Biden administration is right to explore options to bolster this vital component of our economy, adding more drivers is not the answer. By instead deploying a comprehensive, nationwide plan for freight automation and autonomy, the administration can ensure industry resilience, consumer confidence and more sustainable, long-term careers for drivers.