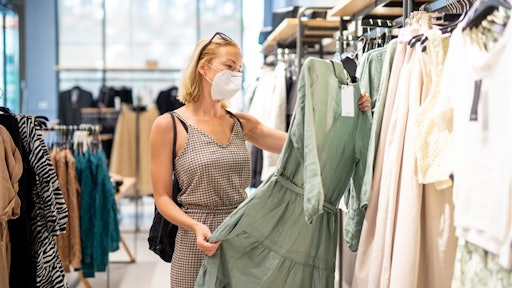 kasto - adobe stock
In-store experiences were hot topics pre-pandemic, but the world has changed in the last two years. Since the Coronavirus disease (COVID-19) struck, more than 2 dozen stores have filed for bankruptcy, and mall foot traffic is down 30%, while online sales surged by nearly $27 trillion globally. Such rapid change begs the question -- are in-store experiences still critical to retail success, especially as the holidays approach? Many industry leaders seem to think so.
Financially speaking, brick-and-mortar retail is still the dominant profit channel for the industry. Plus, in recent months, customers are starting to return to stores as pandemic restrictions wane. Some retailers prefer in-store traffic because customers return far less when they shop in-person vs. online (10% vs. 30%). Plus, browsing in-store tends to inspire more impulse buys, which leads to higher receipts.
As a result, major players are partnering up to offer experiential in-store opportunities such as shop-in-shops. These partnerships will likely improve foot traffic, but will focus on in-store strategies.
Benefits of in-store shop-in-shop experiences for retailers
By offering convenience, value and an expanded assortment, shop-in-shop partnerships help retailers in three ways -- increased foot traffic, expanded consumer base and more loyal followers.
How shop-in-shop experiences affect holiday shopping
The results of the latest shop-in-shop experiments are fresh, but they could indicate how holiday shoppers will react–at least to a degree. However, shop-in-shops will not be enough to reverse the e-commerce tide.
Countless surveys indicate that consumers will continue shopping online in record numbers this year. No strategy, as effective as it may, will change that. But, in-store experiences combined with pent-up desires to get out of the house ensure that holiday shopping will undoubtedly look different this year.
Adding in-store incentives to the mix will motivate even more shoppers to jump off their couch and experience products firsthand again. Beauty shopping, in particular, tends to be very experiential. People want to see the colors, sizes and packaging in person to make their decisions.
Additionally, the increase in brick-and-mortar sales may come from other in-store factors, primarily convenience. By providing regulars with one convenient place to grab their favorite merchandise from both retailers, they save people from having to make two trips.
Shoppers have also shown throughout the pandemic that they love the ease of curbside pickup. But, not every store provides this option.
How shop-in-shop experiences affect holiday returns
Convenience is undoubtedly king, and in-store experiences are a critical element, but convenience also means more returns.
At a glance, that statement may sound counterintuitive since consumers historically return far fewer items when they buy in-store vs. online. However, another relevant fact is that customers strongly dislike inconvenient online returns processes. So much so that 90% of shoppers told goTRG they'll keep unwanted purchases under $20 just to avoid the hassle of shipping items back. Even when factoring in COVID-19-related concerns, shoppers told goTRG recently they would take the risk of driving to a store if it meant they didn't have to ship the item back.
Those factors indicate that shop-in-shop stores will see a surge in in-store returns this year because they're offering convenient drop-off locations for both in-store and online purchases. On the upside, this consolidated returns process means retailers won't face the hassle of processing individually shipped items.
The bottom line
Shop-in-shop partnerships have significant potential to increase foot traffic and expand the customer base for both retailers. These partnerships, if successful, could even allow brands to replace low-performing standalone stores with high-performing, low-maintenance in-store shops instead.
All that said, in-store experiences alone will not move the needle in a significant way for retailers this holiday season. However, focusing on e-commerce growth will. Intelligent retailers should enhance their omnichannel strategy to ensure online shopping and returns are as seamless as possible. That's where the major development lies.