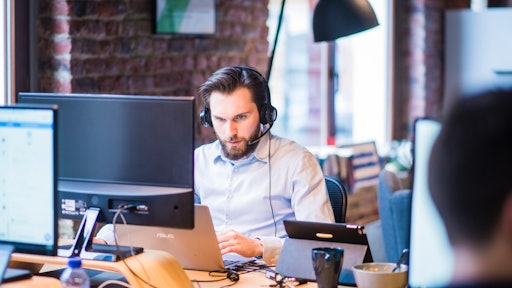 Pexels
Tompkins Ushers in New Era of CEO
Tompkins International has said farewell to its 45-year CEO Jim Tompkins who is retiring, making way for Denny McKnight to take over the position. Tompkins will remain with the company as chairman.
McKnight has been with Tompkins for 29 years, and has work closely with the former CEO, who McKnight says he learned from. The new CEO was appointed as president of the company in 2013, then promoted to CEO of its robotics division in 2018.
Recently, the robotics division partnered with Nordstrom to automate its distribution.
Marine Veteran to Lead Customer Service in North America for Stoecklin
Stoecklin Logistics is looking to expand its operations in North America with the new hire of Adam Smith to lead customer service in the United States and Canada. Reporting to head of sales in United States and Canada Danilo Potocnik and based out of the new Atlanta office, Smith's mission to make sure that all new and existing installations operate at their highest level of performance.
Smith comes from OFS where he was project manager, maintaining inventory for all machinery. He also served as a helicopter airframe mechanic in the United States Marine Corps.
AgileAssets' Follows Solution Update Release with New VP of Partnership
AgileAssets' Jim Edgerton has been promoted to vice president of its national partner program, moving up through the ranks of the company since 2009. His new goal is to help clients expand businesses and success, advancing transportation agencies advance infrastructure management.
Edgerton has been in transportation asset management for more than 25 years.
Quest Appoints New CEO
Quest has appointed Patrick Nichols as CEO, who has more than two decades of experience in businesses development. As he steps into the role, current CEO Mike Kohlsdorf will focus on his primary position as president of Francisco Partners Consulting, the private equity firm behind Quest.
Nichols comes from Corel Corporation, where he was also CEO and is credited with creating a results-driven culture. He also held a variety of leadership roles in product management and technical consulting throughout the years before Corel.
EBI Consulting Hires New Chief People Officer
Environmental consultant Bruce Maisel is joining EBI Consulting as chief people officer, leading human resources. His goal will be building employee engagement to attract new staff members and support the development of current employees to advance growth.
Maisel has previously worked as a consultant, program manager and operations director but pivoted to human resources where he held various leadership positions. He has worked at various service firms in various sectors such as environmental management, engineering and construction.
Datex Promotes Director to CCO
Datex has promoted Margaret Callaghy to chief customer officer from her previous position as director of PMO after three years with the company. Before Datex, she held various positions in project management, quality assurance and business transformation throughout a 20-year career.
The company chose Callaghy due to her experience in working with businesses leveraging technology to heighten operations. Her primary goal will be to enhance internal resources and processes to better align with clients.
This past week, Datex launched services to help clients protect their businesses, data and customers, named Datex Disaster Recovery Services.
Sunlight COO Moves to CEO
The Board of Directors of Systems Sunlight SA has appointed Lampros Bisalas as CEO, who has been with the company for 12 years. He came from PwC and joined as a financial controller, moving up to chief commercial officer, a position he's held for the last three years.
Sunlight praises Bisalas for his role in leading the growth of commercial sales and development of industrial lithium products, which led to its first series of "smart" lithium batteries.
TESSCO Technologies Looks to new SVP
TESSCO Technologies has brought previous SYNNEX Corporation Eddie Franklin on board as senior vice president. He has spent 30 years in the industry, 22 of which was at SYNNEX, where he most recently served as senior vice president of sales and was responsible for the execution of the company's vertical market strategy.
At TESSCO, Franklin will report to president and CEO Sandip Mukerjee and help grow the company's revenue and profitability throughout numerous channels.
In March, TESSCO also hired a new VP of its Ventev brand.
Companies in this article