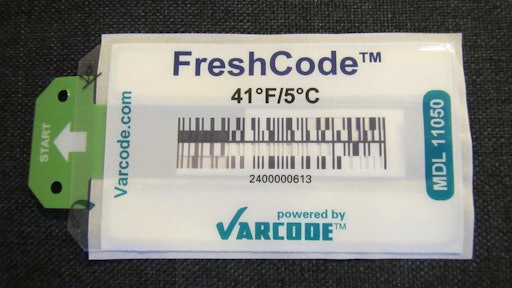 FreshCode Maker Varcode Improves Manufacturing Capability
Varcode, manufacturer of the patented FreshCode smart barcode recorders, says it brought its new high-speed manufacturing capability online, allowing it to produce well over 1 million recorders per month for the global market.
The company's FreshCode recorder is a disposable smart barcode device that monitors temperature along the entire cold chain, and uses common barcode, mobile and cloud technologies to capture, communicate and store the results.
FreshCode recorders are available in a range of time and temperature combinations, and can be easily customized. They are well suited for monitoring pallets, cases and smaller package sizes.
Millennial Parents Are Biggest Buyers Of Organic Food
A survey conducted by the Organic Trade Association (OTA) reveals that millennial parents, those between 18 to 34 years of age, are now the biggest group of organic buyers in the United States, with nearly 45 percent saying they look for organic food products when shopping.
"The millennial consumer and head of household is changing the landscape of our food industry," says Laura Batcha, CEO and executive director of the OTA. "Our survey shows that millennial parents seek out organic because they are more aware of the benefits of organic, that they place a greater value on knowing how their food was grown and produced, and that they are deeply committed to supporting a food system that sustains and nurtures the environment."
The desire for more organic food options is challenging farmers, grocers and restaurants to provide customers with organic, fair-trade, vegan, gluten-free and healthy food at a price point that is manageable.
Emerson Using IoT To Boost Food Safety
A recent survey by Emerson, a global leader in refrigeration and food safety technology, finds nine out of 10 adults are concerned about food safety. And while consumers say they trust their grocery store to provide safe food, Emerson sees potential for using the Internet of Things (IoT) to help the industry improve food safety along the food chain, including cold chain management, and ensure compliance with the Food and Drug Administration's (FDA's) Food Safety Modernization Act (FSMA).
"Only a few decades ago, food transporters would put a thermometer in the food once it reached its destination, whether the trip was five or 500 miles," says Bob Sharp, executive vice president of Emerson Commercial & Residential Solutions. "Now, we have the technology to give us constant insight into food temperature from the farm to the warehouse to the store, helping to protect food safety and quality for the customers we serve."
Emerson is expanding its cold chain capabilities by using small, IoT-enabled sensors to constantly monitor the surface temperature of foods. The company's acquisitions of Locus Traxx and PakSense gives it the tools to provide real-time temperature tracking and a full suite of temperature monitoring solutions to protect perishable goods through the supply chain. Combined with its advanced ProAct monitoring of refrigeration and food in 17,000 retail sites and more than 2,000 shipping vessels globally, Emerson now offers technology solutions to monitor food from farm to fork.
Trump Taps Chao To Head US DOT
Former Secretary of Labor Elaine Chao was chosen by President-elect Donald Trump to head the U.S. Department of Transportation (DOT). If confirmed by the Senate, Chao would lead the next administration's massive goals for infrastructure funding and myriad regulations.
Trump pledged to enact legislation aimed at investing $1 trillion in infrastructure over 10 years by providing $137 billion in tax credits to companies. Meanwhile, Trump is expected to roll back rules pertaining to commercial drivers' work schedules.
Chao led the Labor Department from 2001 to 2009 as the first Asian-American woman to hold a cabinet position.
On Capitol Hill, transportation policy authorizers said they welcome the opportunity to work with Chao. "I am committed to working with Secretary Chao and President Trump to make responsible investments in our infrastructure, streamline transportation improvements, reduce regulatory burdens, encourage private-public partnerships, and encourage innovation to preserve and strengthen America's economic competitiveness," said Rep. Bill Shuster (R-Pennsylvania), chairman of the Transportation and Infrastructure Committee in the House.
Ag Water Challenge Recruits 7 New Companies
The AgWater Challenge, an initiative created by Ceres and the World Wildlife Fund (WWF) to encourage companies to reduce water use in their global supply chains, added seven new companies to its ranks—Diageo, General Mills, Hain Celestial, Hormel Foods, Kellogg Co., PepsiCo and WhiteWave Foods—all of which submitted detailed sustainable sourcing and water stewardship plans.
Brooke Barton, senior director of water and food programs at Ceres, notes: "Major food brands can be a powerful and constructive force for scaling water stewardship, especially at the farm level where the biggest footprint is by far. These brands recognize the material financial impact that water risks pose to their business, from supply disruptions to higher operating costs to growth constraints. More than ever, companies are responding to these supply risks through farmer incentives, local partnerships and bottom-line reductions."
Commitments by the seven companies include:
PepsiCo

will work with its agricultural suppliers to improve the water efficiency of its direct agricultural supply chain by 15 percent by 2025 (compared to 2015) in high water risk sourcing areas, including India and Mexico.
Hain Celestial is setting a new sustainable sourcing goal for key agricultural inputs, including a commitment to strengthen water and fertilizer management practices of farmers in its ingredient and protein supply chains.

Hormel Foods

will develop a comprehensive water stewardship policy, setting water management expectations that go beyond regulatory compliance for its major suppliers, contract animal growers and feed suppliers—a first in the meat industry.
WhiteWave Foods will develop a time-bound road map for agricultural water stewardship over the next 24 months to address shared water challenges facing its key commodities in areas of greatest water risk, including California.
In 2017, Ceres will evaluate the companies' adherence to their commitments through the release of its second "Feeding Ourselves Thirsty" report, which benchmarks global food and beverage companies on their water management practices. All of the AgWater stewards will be benchmarked in the report, along with several dozen additional companies.
Agriculture Secretary Vilsack Issues US Export Forecast for 2017
The U.S. Department of Agriculture (USDA) is forecasting a strong outlook for American farm exports in 2017.
"U.S. farmers and ranchers continue to rise to the challenge of supplying the world with high-quality, American-grown products," announced Agriculture Secretary Tom Vilsack on November 30. "At a projected $134 billion in 2017, U.S. farm exports continue to rally and remain on the record-setting pace of the past eight years. Since 2009, the United States has exported more than $1 trillion in agricultural products, far more than any other period in our history, thanks to the productivity and ingenuity of American farmers and ranchers, aided in part by the work of USDA's Foreign Agricultural Service to arrange and support trade missions, and of the Animal and Plant Health Inspection Service to break down trade barriers."
Vilsack said that the $134 billion forecast represents an increase of $4.3 billion from 2016 and would be the sixth highest total on record. In addition, U.S. agriculture is once again expected to post a trade surplus, totaling $21.5 billion, up nearly 30 percent from the $16.6 billion surplus in 2016.
"The expected volume of 2017 exports is noteworthy, with bulk commodity exports expected to surpass last year's record levels—led by soybeans at a record 55.8 million metric tons, and corn, up 11 percent from last year, to 56.5 million metric tons. The volume of cotton exports is expected to begin recovering, and most livestock and poultry products should see moderate increases in export volume as well," Vilsack added.
Fisher Construction Group Wins Award For Cold Storage Facility
The Global Cold Chain Alliance (GCCA) announced that Fisher Construction Group, a member of the International Association for Cold Storage Construction (IACSC), a GCCA Core Partner, won the inaugural IACSC Built by the Best Award. Fisher was named the winner for the work done on a joint cold storage and food processing facility for Lineage Logistics and Titan Frozen Fruit.
Lineage Logistics contracted with Fisher Construction Group to build a 216,777-square-foot Leadership in Energy and Environmental Design (LEED)-certified facility, which includes 151,000 square feet of cold storage and dock space, and 65,000 square feet dedicated to on-site food processing for Lineage's tenant, Titan Frozen Fruit. Fisher developed solutions to challenges during facility construction, at times managing over 120 workers in 10 trades, to allow Titan Frozen Fruit to start processing strawberries just seven months after breaking ground.
With the capacity to blast freeze 1 million pounds of product per day, the state-of-the-art facility will play a major role in meeting the expanding food processing needs in the Santa Maria, California, region.
The IACSC award was created in 2016 to recognize the world's leading experts in building temperature-controlled facilities of all types.