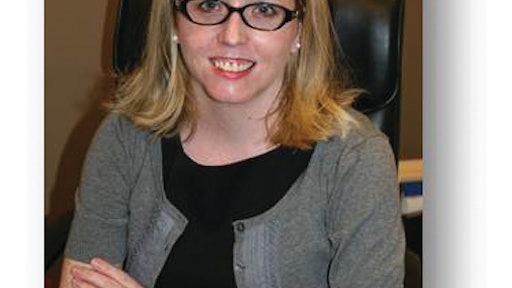 Many executives of food and beverage distribution and logistics companies are aware of the need for oversight of employees, vehicles and other assets. It has become a necessary task that businesses in the field face on a daily basis. Fleet and asset tracking are becoming more common than ever, as executives and fleet managers look to ensure the efficient and effective use of their fleets, assets, and employees.
At the basic level, telematics refers to the use of telecommunications and informatics, providing many practical applications for the food and beverage distribution industry. For example, in the supply industry, accurate delivery times are crucial to ensure the rest of the day's tasks stay on time.
Another term for telematics is GPS fleet tracking, however that terminology does not fully encompass what a GPS fleet tracking solution can do for a food and beverage logistics business. These solutions have many more capabilities than simple "track and trace" options, allowing fleet managers to do more than locate vehicles or assets on a map. A comprehensive GPS fleet tracking solution should be an essential business tool for any food and beverage companies with a fleet, no matter how small. Even with the most basic usage, GPS technology allows for increased fuel efficiency and employee productivity, showing a reduction in overall operating expenses.
Companies must be able to track and manage their investments without compromising security and efficiency. GPS fleet technology, with an easy-to-implement solution, effectively monitors fleets, ensuring efficient use of the company's fuel and time. Whether your business has three vehicles or 300, this technology plays a vital role in maximizing revenue, increasing operational efficiencies and achieving ROI.
Vehicle tracking to save on fuel
GPS fleet tracking solutions offer benefits to food and beverage companies that go beyond simply knowing where vehicles are. Functions of a GPS fleet tracking solution save companies money, even when the features aren't directly targeting an issue such as excessive fuel spend. The routing feature of a GPS fleet tracking solution not only ensures your driver can get to his next delivery, site or warehouse on time –it also ensures that the driver has the most direct route to a location thus reducing excessive fuel use.
Some GPS fleet tracking solutions integrate with intuitive and popular GPS systems, such as Garmin®. Many companies choose these solutions for their fleets because of the appeal of the consumer-facing GPS system that they are accustomed to using in their personal lives. However, a GPS fleet tracking solution that integrates with such a GPS system can have additional benefits other than a minimal learning curve. One supply chain and goods transportation company, SEKO Logistics, was able to cut down on surplus driving in its fleet and reduce fuel costs with the voice-guided, turn-by-turn directions. By using the fleet tracking solution's routing functionality, the company's fleet manager was able to make his drivers more productive and cut down on both fuel costs and vehicle wear-and-tear.
Hard data to cut back on costs
A look into operations makes it clear what's working and what's not for your company. GPS fleet tracking solutions provide a variety of reports and information on a number of driving factors, including how many times a truck starts and stops, how long it is idling and if any dangerous driving behavior occurred. These reports are not used to target drivers or to scold them, but to simply identify driving habits that can be altered to save money for the company.
The reporting capability provides a wealth of information and valuable insight at a moment's notice. Perhaps most importantly, the collected data can be presented in a graphically-rich dashboard and is actionable. Meaning, the information gathered can be put to use to improve processes. Dashboards give fleet managers the ability to set user-defined goals that allow for benchmarking operations.
A study conducted by the U.S. Environmental Protection Agency found that trucks left idling for long periods of time waste approximately 960 million gallons of diesel fuel each year. Real-time data collection allows for the monitoring of variable costs, such as idling, associated with fleets. A large number of companies now track their fleet so they may report on key metrics including idling time, fuel consumption, driving speeds, vehicle location and employee hours.
The same supply chain and goods transportation company was able to cut vehicle idle time by 85% after implementing a GPS fleet tracking solution – from almost 23 hours per month to three hours per month in less than one year. The fleet manager attributed the decrease in idle time to his fleet tracking solution and the visibility and insight into the fleet's daily operations from the idle reports. Reports on idling also allow for the reduction of harmful emissions and fuel expenses.
Another food and beverage supply company, Accardi Foods, was able to reduce overtime costs by 50 percent, saving the company $80,000 per year on overtime alone. By utilizing a GPS fleet tracking solution, the director of the food and beverage company was able to not only identify drivers that were "padding" their hours, but more importantly he was able to address the situation without directly offending any employees. The company also noted that the fleet tracking solution acts as a 'virtual time card,' enabling the fleet manager to verify hours worked to ensure accurate payments were being made to drivers.
Maintenance reports allow fleet managers to automate maintenance schedules for vehicles and alerts headquarters when preventative maintenance, such as an oil change, needs to be conducted. Automating maintenance procedures can save money and keep trucks and vehicles working on the road.
Determining the right partner
Transparency between headquarters and the individual vehicles is necessary in running an efficient fleet. By empowering fleet operations with a GPS fleet tracking solution, the line of communication between operators and drivers is simplified and there is a direct impact on efficiency and functionality.
While the fleet and asset tracking functionality gives businesses transparency and ease of use, choosing the right provider is just as important as the solution itself. The ability to access the location of a vehicle or asset within seconds maximizes the benefits to a business, but means nothing if the provider's application experiences downtime. Be sure to choose an established provider with a cloud-based application who can guarantee a 99.9 percent uptime, offers a comprehensive fuel management system, satellite-based asset tracking, as well as comprehensive reporting.
Just as important, is a provider that manufactures their own devices, meaning they control the quality of their hardware and pledge industry-leading reliability. The provider should service companies both large and small, and provide the resources to properly train staff while still offering 24/7 customer service.
Utilizing a fleet management solution saves fleet managers both time and money, increasing efficiency and cutting back on fuel costs. Tangible information provided in reports gives fleet managers data that is not only informative, but also actionable. A GPS fleet tracking solution can maximize operations overall, streamlining procedures and putting both money and time back on your side.