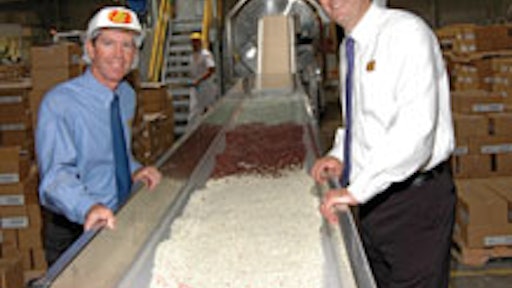 Business was sweet for the Jelly Belly Candy Co. The maker of the world's most popular jelly bean, the family-owned firm was experiencing double-digit growth year after year. With sales booming, Jelly Belly expanded its manufacturing plants and distribution centers in the U.S. and began construction on a third facility in Thailand to keep up with the growing demand.
The Fairfield, CA-based company makes more than 100 types of candy, including 110 flavors of its signature Jelly Belly jelly beans. In fact, the company sells more than 12 billion Jelly Belly jelly beans each year--producing some 22,000 a minute. The beans account for about 75 percent of the company's sales, which topped $150 million last year.
Despite its outward success, however, Jelly Belly was experiencing internal growing pains, relying on a 10-year old legacy system comprised of disparate business applications. Data was inaccurate and unsynchronized and the warehouses were running on a separate system. The company wasn't able to do capacity planning, forecasting or real-time cost analysis, capabilities that are crucial for today's manufacturers.
"In manufacturing, you've got to be on your game--especially in food manufacturing," says Ryan Schader, Jelly Belly's vice president of business development. "You're always up against large overheads and you would like to run as much product through the system as possible and keep your factories utilized, but you don't want to run so much that your product quality or service levels decline."
Schader points out that making jelly beans is a complicated process with a long lead time, requiring complex supply chain planning. "We have 50 'official' flavors of Jelly Belly jelly beans and our number one selling mix is 49 flavors. That mix goes into multiple SKU's, and to make the 49 Flavor Mix, you've got to make the individual beans which each take anywhere from seven to 21 days to manufacture.
"We source globally and are dealing with about 5,000 raw material inputs to produce roughly 1,400 SKUs and we have co-packing operations in China, which require six months lead time," says Schader. "Compound that with the seasonality of the confectionery business and you've got a pretty complex puzzle."
To sort out the pieces of the puzzle, Jelly Belly looked for an ERP (enterprise resource planning) solution that would simplify and streamline its supply chain, as well as reduce costs and provide greater visibility into company-wide data.
"This didn't start out as an IT-centric project, but more as an appeal from the user community," says Dan Rosman, Jelly Belly's information technology vice president. "Our users needed more modern, advanced tools like demand planning, better customer management functionality and more detailed control of the manufacturing process. We started the project looking at a variety of different solutions, trying to meet the business needs from the application perspective.
"We were looking for an integrated solution with one database and one interface on a single platform," says Rosman. "We were using Cimpro, which was a non-relational database type of system with multiple data files. The system didn't have the capabilities for capacity planning or elemental cost analysis, nor did it have a good demand planning or forecasting component to it."
In addition, Cimpro did not have a WMS (warehouse management system) component. "We were using another vendor's WMS, which ran on a different platform, and the two systems were patched together with some home-grown interfaces. There were a lot of issues with inventory balances--the two systems were out of sync," says Rosman. "Our goals were to consolidate our technology platform and modernize the underlying infrastructure, and find a more functional system that would be easy for our employees to use."
Finding The Solution
In 2005, the company began a 12-month evaluation of technology vendors, who were given an overview of the candy maker's manufacturing process. Supplied with a 10-flavor mix of Jelly Belly jelly beans, the vendors were asked to create and run a demo of their solution using Jelly Belly's information. The company eventually whittled it down to three final candidates and settled on St. Paul, MN-based Lawson Software, and implemented its M3 7.1 suite of applications.
"We chose Lawson because most of the vendors did not have an ERP solution that was flexible enough to handle our processes," says Schader. "Lawson demonstrated that its solutions could address challenges specific to our business and they were the only vendor that would implement the solution with their own consultants--the expense is not in the software, it's in the actual implementation."
The company implemented Lawson Financial Management, Supply Chain Management and Business Performance Warehouse, along with planning applications including Demand Planner and Supply Chain Orders.
The project began in March 2006 and the first hurdle was the cleaning up of Jelly Belly's master data. "With M3, all the data has to be entered correctly into the system to work. We did a data conversion from the old system into the new system and one of the things we learned was that our old system didn't enforce a lot of data integrity. Every master file had issues," says Schader. "We were finding so many inconsistencies in our customer master data, item master and vendor master that we had to put one person in charge of each master file to get everything corrected."
Performance Measurement
As part of the system rollout, Jelly Belly developed a change management plan that included employee training and ongoing communications to keep staff updated on project milestones. The company also supported employee buy-in by enlisting staff from various departments to conduct system testing and provide feedback throughout the project.
There were challenges along the way. During the implementation, Jelly Belly acquired another company and merged it into its Fairfield, CA, facility. Then, just as the system was ready to go live, Lawson upgraded M3 with a new user interface called Smart Client. Smart Client is an application that sits on a central server and delivers an interface that allows user-specific customization and can support different types of data displays including documents, graphics and video, replacing the tab-based data entry form style common to ERP systems.
"Smart Client is a much better interface than the previous version," says Rosman. "It allows a user to multi-task. It also makes it easier to train new people on the system. Even though we had training prior to this, everybody needed to be up to speed as quickly as possible, and Smart Client certainly helped."
Then there was the WMS. "M3 has some basic warehouse management functions, but it didn't have wireless capabilities. We were using over 100 handhelds on the floor, so Lawson brought in one of their partners, Data Systems International (DSI), to develop applications that allowed our handhelds to communicate with the system," says Rosman. "That was a major cost savings because we were able to use our existing legacy handhelds and did not have to change the proprietary wireless handheld network."
Sweet Success
The implementation was completed last October--and the benefits were almost immediate. Jelly Belly has greater transparency to its supply chain. "The access to real-time transaction information had significantly improved coordination between departments," says Schader. "This increased visibility has extended into the financial analysis of our manufacturing cost accounting. We are now giving feedback to manufacturing on a daily, rather than monthly basis, so process adjustments can be made and variances can be addressed."
The company has greatly improved its demand planning and forecasting capabilities. Sales managers used to forecast every item on a monthly basis and inaccurate forecasting wreaked havoc on its supply chain. The system now calculates the forecast for many items with a sales history, leaving the sales managers more time to focus on selling.
"We're making significant progress," says Schader. "The quality of the data is markedly improved. We have a consistent sales history for many items and can statistically calculate what the demand should be. The sales staff can now focus on the large orders that move the needle, instead of them telling us they need five more cases."
Jelly Belly's new manufacturing plant in Thailand will also be tied into the system. "Given the 14 hour time difference between Thailand and our headquarters, this wouldn't be possible without the solution," says Schader.
Jelly Belly attributes the success of its Lawson implementation to several factors, such as strong executive sponsorship of the project and a collaborative partnership between the two companies. The candy maker is in the process of implementing two additional Lawson applications--a plant maintenance module and sales and marketing system.
"Commodity prices are going through the roof and fuel is sky high, which costs us on all of our raw material inputs and finished goods costs for shipping," says Schader. " It's very difficult to pass those costs on to our national retail accounts. Faced with that squeeze, you really have to have tools to make better decisions. M3 is allowing us to do that."
Jelly Belly's Application Mix
The Jelly Belly Candy Co. is relying on enterprise-wide applications to reduce operating costs and improve customer service. Here's a rundown of the Lawson M3 7.1 Application suite which it recently implemented:
• The financial management application handles all financial accounting, budgeting, reporting and transaction processing. It helps save costs, eliminate redundancies, streamline activities and allow redeployment of assets to more profitable activities.
• The supply chain management suite manages planning, scheduling and fulfillment for optimum service levels and maximum profitability.
• Business Performance Warehouse is an easy-to-use data warehouse solution built on leading-edge data warehouse technology. As a data warehouse solution, BPW extracts and consolidates data generated by dispersed systems. This assists Jelly Belly by making the information available to decision makers throughout the organization in a flexible and powerful format.
• The demand planner application helps improve forecast accuracy, which in turn reduces rush orders and stock handling costs. The solution also helps Jelly Belly avoid excessive inventory, which can lead to increased operating costs.
• Supply chain orders enables Jelly belly to link various orders within a supply chain, provider greater visibility across its entire supply chain and greater flexibility to react to order changes.
In addition, the Smart Client user interface simplifies how Jelly Belly interacts with the system by enabling user-specific customization and personalization so users see just the tools and information they need. Smart Client also allows Jelly Belly to embed content into links within the Web-based Lawson applications. This enables employees to move between data in one click vs. three or four, without having to open several windows at the same time.
History Of Innovation Continues
President Ronald Reagan made Jelly Belly a household name during his tenure in the White House. Reagan's favorite candy, he made Jelly Belly jelly beans a staple in the Oval Office and on Air Force One. In 1983, he sent the beans on the space shuttle Challenger as a surprise for the astronauts--the first jelly beans to go into orbit.
The Jelly Belly brand was introduced in 1976 by what was then known as the Herman Goelitz Candy Co. The company developed jelly beans with a "true-to-life" taste using natural ingredients for flavoring and color. The first eight flavors rolled out were very cherry, lemon, cream soda, tangerine, green apple, root beer, grape and licorice.
Today, the brand features more than 50 official Jelly Belly flavors plus over 50 "unofficial" flavors, including a new Cold Stone Ice Cream Parlor mix of six flavors. A 49-flavor mix is its most popular product and very cherry is the number one flavor, followed by buttered popcorn. More than 12 billion Jelly Belly beans are consumed worldwide each year.
Jelly Belly also produces more than 100 other types of candies, chocolates, gummies, sour candies and confections for all of the major seasons.
"The Goelitz family started making candy corn in 1898 and we're still making it," says Ryan Schader, the company's vice president of business development. "Today, we have a broad line of more than 1,400 SKUs. This is a family-owned, fifth-generation confectionery company and we need to continually come up with new products to stay competitive. For example, we've recently branched out into nutraceutical products with our Sports Beans line. Innovation is our life blood."