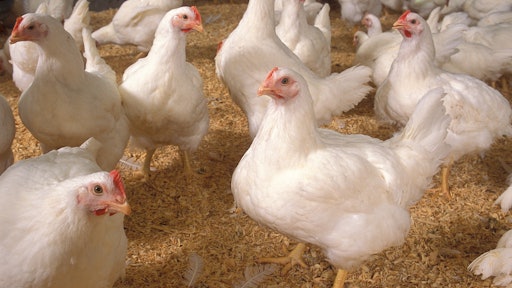 Reuters reports that Brazilian chicken exports have fallen drastically in the five months through May. The country was hit by trade embargoes by the European Union and a decline in sales in countries like Saudi Arabia and Russia.
The volume of exported chicken was down 8.5 percent from last year to 1.6 million tonnes, Reuters reports. Revenue fell 12.3 percent as a result.
Shipments to the EU dropped the most. In the five months, Brazil sold 92,500 tonnes to the EU, down from 151,800 tonnes, according to Reuters. The fall in exports comes a decision made in April by the EU to suspend imports of Brazilian meat products, affecting 20 plants in the country. Reuters reports that the suspension was allegedly linked to "deficiencies detected in the Brazilian official control system."
Export volumes are expected to drop further after an 11-day truckers strike last month that disrupted the food supply chain in the country. The effects of the strike will be reflected in June export figures.