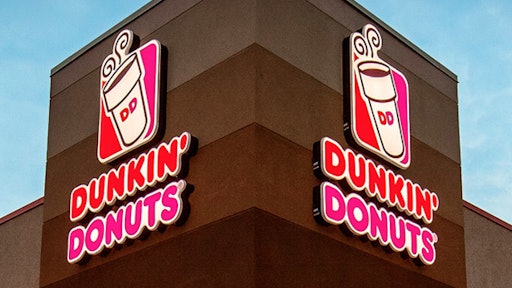 Dunkin' Donuts is planning on opening a "next generation" store in the Chicago area later this year. According to the Chicago Tribune, the doughnuts will be displayed in cases closer to the consumer rather than behind the counter. 
The next generation stores will feature a more modern design, have more grab-and-go option and more espresso-based drinks, the Chicago Tribune reports. The stores will also have cold-brew and nitrogen infused coffee on tap. More than half of the chain's sales come from beverages, with doughnuts making up far less than that. Though, the display of the breakfast treat is the most notable change. 
As of 2013, there are over 10,000 Dunkin' Donuts stores in the US, with 1,500 stores in New York and 1,200 in Massachusetts. 
CEO Nigel Travis believes that the company is capable of doubling the number of its locations, especially in the western US, the Chicago Tribune reports. 
Last year Dunkin' reduced its food menu by 10 percent, but as the company grows, it will focus on expanding espresso-based drinks without slowing the speed of service that is expected from fast-food restaurants.