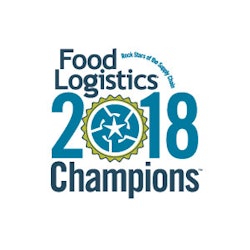 The fourth annual Food Logistics' Champions: Rock Stars of the Supply Chain award recognizes the industry's most influential for their hard work, vision an leadership in shaping the global food supply chain. The champions represent different industry segments and individuals who spearheaded partnerships among growers, packers, processors, retailers and logistics providers. They exemplify the best traits of leadership. Food Logistics invites readers to congratulate the champions.
To view the complete list of award recipients, download here.
Gene Averill
Founder and CEO, Avercast
Gene Averill gained invaluable experience in the logistics and supply chain industry while managing the operations of 150 warehouses for the Defense Logistics Agency as a lieutenant colonel for the United States Marine Corps. While in the Marine Corps, Averill studied under IBM, where he developed a supply chain software tool for the military. In his success, Averill was then able to write a new software and create Demand Solutions, a company that was recognized world-wide. After leaving Demand Solutions, Averill founded Avercast, revolutionizing the industry with an upgraded forecasting engine containing 205 forecasting algorithms. Averill's forecasting and demand planning solutions are currently used by more than 10,000 supply chain professionals. Household name brands have relied on Averill's methodologies for inventory planning and seek out his expertise for supply chain optimization.
Richard "Dick" Corbett
Partner, Port Logistics Refrigerated Services
Over the course of his career, Dick Corbett has worked for the Kennedy administration, as a real estate investor and developer in New York City, and helped contribute to Florida's economic development, agriculture and K-12 education systems. Through these various employment changes, he has continued to demonstrate his leadership and has been recognized as a strategic thinker. Today, Corbett is committed to improving the quality of life and the economic vitality for Florida citizens by helping finance a new on-dock, cold storage facility at Port Tampa Bay. Exporters and importers will be able to take advantage of a faster, fresher and more economical supply chain by not having to route their cargo to more distant ports, saving them from costly truck hauls and delays. The flexibility, cost-savings and services provided are game changing in for Flordia's food logistics network, proving Corbett to be a Food Logistics Champion.
Jason Dick
President, Dick Cold Storage
Dick Cold Storage is a family business spanning four generations. Since growing up with the business, Jason Dick has worked in every single position within the company. This experience has allowed him to adapt to changing market conditions and position Dick Cold Storage as a major player in the Columbus cold storage landscape.
His experience in the cold storage and warehousing fields has been critical for the Canadian-based English Bay's success in America. Thanks to Dick's takeover of order processing, storage and shipping to English Bay customers, the company was able to expand in the United States.
Currently, Dick is setting up expanding Dick Cold Storage's raw material and pastry expansion divisions.
Frank Dreischarf
Vice President of Supply Chain Solutions, R2 Logistics
Frank Dreischarf started with R2 Logistics in 2017 when he filled the role of vice president of supply chain solutions, bringing with him 20-plus years of distribution and supply chain experience. He has held high-level positions with companies such as The Scotts Company, where he was responsible for logistics strategy and execution supporting $2.8 billion in annual revenues and a $200 million transportation budget across four business units.
In his current role, Dreischarf is responsible for developing and managing R2's multi-modal and supply chain service offerings. His expertise is fundamental in assisting customers such as Anheuser Busch, U.S. Foods and North Bay Produce.
Dreischarf believes logistics is a relationship based business and the foundation for any successful relationship is integrity and trust. In his own words, "that means doing what you say you will do, always seeking to find and add value, and to treat others as you want to be treated."
W. Michael Jarrett
President, Jarrett Logistics Systems
W. Michael Jarrett is known for his entrepreneurial achievements as the co-founder of six highly successful companies in Ohio. His latest venture Jarrett Logistics Systems was founded in 1999 based on Jarrett's extensive background in transportation management. Jarrett brings 30 years of experience in designing and implementing transportation services in the 3PL industry, making operations better, faster and more efficient. Of note, he led the implementation of a solution for a large food company that desired to manage their LTL carrier on-time delivery performance to the same delivery standards they held for their Full TL carriers. Jarrett developed a plan that his team executed, along with the carrier partners, that the company has been able to maintain for nearly eight years. Jarrett views business ethics, employee character and operational efficiency as the keys to success for Jarrett Logistics Systems.
Stanton Kaye
President, Infratab Inc.
Stanton Kaye has created a system by which items of varying spoilage rate can be monitored for freshness, yielding item-specific freshness information at a very low cost. With more than 30 years of experience in the space, he holds four patents in perishable shelf life, using crystal and gel chemical diffusion and controlled electronic corrosion to emulate a perishable's spoilage characteristics. The concepts in these patents provided the foundation for the future innovations that form the basis of the freshness technology of Infratab's Freshtime tags. Infratab's Freshtime tags provide uninterrupted shelf time temperature and freshness monitoring for pennies per item, allowing full value compensation to the seller and maximum enjoyment by the buyer. The consequences of this level of monitoring are subtle but meaningful to small and large businesses and innovative farmers. Kaye believes that if he is able to grade food more accurately, there is an ability to feed the world. Prior to Infratab, Stanton, as vice president of marketing/international at Quarterdeck, is credited with taking a system utility and turning it into the highest volume retail software product next to Windows. Stanton's unique approach to European sales and support using T-1 communications between Ireland, Quarterdeck's European offices and its Santa Monica headquarters resulted in special recognition to Quarterdeck from the Irish government for having created the foundation of the customer telephone support industry in Ireland. In addition, Kaye is an independent filmmaker and winner of numerous awards including the United Nations Award for New Ways and Means of Communication and Director's Fortnight, Cannes Film Festival. Stanton is an American Film Institute Fellow.
Eduardo Kerbel
Postharvest Technologies Business Manager, Carrier Transicold
Eduardo Kerbel has 31 experienced years in the produce industry, with expert world-wide knowledge in consulting and educational services.
He has contributed in disseminating awareness, knowledge and know-how through presentations, seminars and lectures. Kerbel's knowledge covers various areas of postharvest handling and technology to various groups like growers, shipping lines, logistics personnel, supply chain personnel, warehouse and cold storage personnel, agro-chemical personnel, and store/supermarket operators.
Eduardo spends a lot of time trying to bring awareness and improve communications among all players of the cold and supply chains on the importance of following proper handling practices, maintaining proper temperature, humidity and ethylene control practices. Kerbel knows that communication is important to maintain fresh produce quality and condition, as well as keeping postharvest losses to a minimum.
Bill Loftis
Senior Director, Integrated Solutions, Transportation Insight
Bill Loftis brings a holistic approach to supply chain assessment for grocery, food and beverage and consumer packaged goods companies. He is driven by efforts to align client supply chain capabilities with their business objectives. By contributing to Transportation Insight's supply chain point of view for grocery retail, he has managed to cost effectively maintain inventory and serve individual consumer unit demand, all while buying large truckload quantities. Loftis designs solutions that help clients gain control of inbound logistics by focusing on three key elements: achieving inbound control, enabling vendor compliance and providing actionable business intelligence. He leverages his expertise in solution design to help clients' business performance through a method that covers all supply chain processes. Because of this, Loftis helped a $3 billion regional supermarket chain implement a Transportation Insight fleet optimization project, saving them millions of dollars without compromising service. Loftis has consulted many companies on network design, transportation procurement and analytic supported improvement solutions, becoming an industry thought leader and advocate of the value of shared networks.
Roland Ornelas
Chief Commercial Officer, National DCP LLC
Serving as the chief commercial officer, Roland Ornelas has the strategic oversight of the relationship with NDCP's customers, partners and supplies to effectively support the company's supply chain and program management functions. With more than 25 years in the industry, Ornelas has played an integral role in transforming NDCP's supply chain capabilities and maximizing cost savings. His keen ability to connect ideas and diverse, multi-functional groups has transformed the strategic sourcing, procurement and supply chain capabilities of major brands including, Dunkin' Donuts, Wyndham Worldwide, O'Charley's Inc., Carlson Companies, McDonalds, Taco Bell, Pizza Hut and KFC. Ornelas is passionate about sharing his knowledge and has delivered popular presentations at industry events. From his humble beginnings as a first-generation immigrant, Ornelas believes in giving back. He aims to bring out the best in his teams through on-going coaching, mentorship, recognition and education. A strong proponent of culture, team building activities include community service activities at the Atlanta Community Food Bank and fundraising for the Jimmy Fund (Dana-Farber Cancer Institute). In 2017, his team raised $800,000 for cancer research, bringing the cumulative total to $13 million.
Dave Reba
Director of Consumables Sales, Barcoding Inc.
Dave Reba has a proven track record in developing and executing strategies that result in significant market share growth, enhanced profitability and improved customer satisfaction over his 25 year career. He uses his knowledge and industry experience to create a more accurate, efficient and connected supply chain. At Barcoding Inc., Reba leads a team of experts in helping customers overcome challenges and gain competitive edges with the latest technologies. He is able to provide the expertise, materials and label design solutions that enable the food and beverage industry to provide better and fresher products to consumers. Reba continues to strive in assisting food sector companies in designing labels that not only meet regulations, but also communicate vital safety, health and nutritional information to consumers. His extensive RFID experience enables him to support customers in adopting and optimizing evolving track-and-trace technology. By helping his customers embrace new labelling and tagging technology, they will be able to track and monitor an item throughout its entire lifecycle, ensuring the consumer is provided with a safe and fresh product.
Peter Shin
Director of Pre-sales for North America, Quintiq
Peter Shin has over 10 years of experience in operations research, with a focus on delivering value through technology, business process and change management. Industry leaders in freight, postal, energy, manufacturing, consumables, and finance have all benefited from the initiatives managed under Shin's guidance. The wide variety of industries, business drivers and challenges tackled by Shin make him the right fit. He believes that technological advancements are just around the corner and that they will elevate the industry to be faster and more efficient. Shin says the companies who will succeed through this evolution of technology will be those who adequately address all three pillars equally: fast, efficient and safe.
His recent initiatives include advising some of the largest U.S. players in protein, dried foods and wine production, as well as enabling logistics improvements for retail grocery and temperature sensitive food distribution.
Bernard Tremblay
Director, Miebach Consulting, North America
With over 20 years in the industry, Tremblay says he has learned that "working in the supply chain is never finished; there is continuously something to be improved." His extensive experience with international food and beverage supply chains include clients such as Walmart, Makro Wholesalers, Brazil Foods, Danone, Coca Cola, Givaudan, PepsiCo, P&G, Unilever, McCain, ABI InBev and Mondelez. Tremblay has been working with supply chains before they were a concept to many companies. He has pushed numerous companies over the years to become proactively oriented in their approach to their supply chain. He has been effective in leading executives to understand how establishing supply chains as a key concept within their operation has the ability to make a positive impact on multiple functional areas within the company. Tremblay's consumer goods expertise spans local, regional and now even global supply chains.
J.P. Wiggins
Co-founder and Vice President of Logistics, 3Gtms
J.P. Wiggins has been instrumental in driving transportation management innovations throughout his entire career. Prior to his role at 3Gtms, Wiggins was the solution principal at SAP, focusing on transportation, warehouse and event management offerings in North America. He also directed industry marketing for the company's transportation and logistics business unit. This experience provided him a deep understanding of how to manage transportation within the complexities of the food industry. At 3Gtms, Wiggins has helped drive a product roadmap that emphasizes tracking and visibility of freight movements. He has assisted multiple 3Gtms' food customers in improving traceability efforts throughout their supply chain, and has been a driver of enhanced integration capabilities within the 3G-TM product to support data visibility and retention. In addition, Wiggins regularly serves on panels and sessions at industry events to share his insight from a technological point of view and to ensure that he is understanding the latest challenges and concerns from a range of organizations within the industry.
Steven Williams
Director of Operations, Universal Chain Inc.
With more than 16 years of operations and management experience, Steven Williams is the "go to" person to lead and drive high risk initiatives, turn around struggling departments and utilize outside of the box thinking. Williams has led several projects that have improved efficiency, reputation and enhanced overall market position within the freight handling and logistics support industry, including taking lead on Universal Chain's PayLump project. Williams knew and understood that data and financial analytics help drive a company toward success, but he also knew that the industry wasn't welcoming of that information until now. With that knowledge, William helped launch the development of a modern proprietary software platform that captures over 60 real-time data points, and tracks the unloading process from start to finish. PayLump offers real-time bill calculations that result in extremely high accuracy of charges being billed to the client, taking the human element of error out of the equation. In addition, Williams structured PayLump so that it can be implemented in any operation at any location, driving this project to heights unrealized and not achievable by anyone one else. Recently, he helped launch a new line in the software called PayLump Carrier. It extends the transparency of delivery data and provides another source to compare and contrast data, to insure integrity and consistency between unloaders and drivers.
Companies in this article