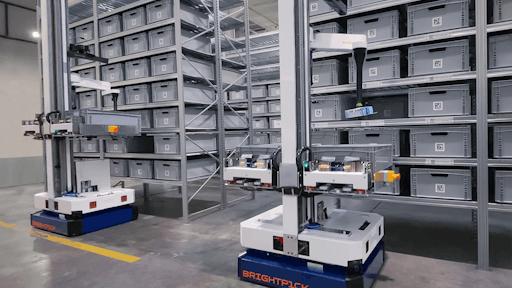 Brightpick
Brightpick announced Brightpick Autopicker, an autonomous mobile picking robot for e-commerce and grocery order fulfillment.
"Our patented Brightpick Autopicker is the most advanced fulfillment robot ever created and is a game-changer in the warehouse automation space," says Jan Zizka, CEO and co-founder of Brightpick. "Until now, there has never been a robot capable of both picking and consolidating orders on its own as it moves around a warehouse."
From Brightpick:
Brightpick

Autopicker is the only warehouse robot capable of both picking and consolidating orders in the aisles. Like humans with carts,

Brightpick

Autopickers move around the warehouse, retrieve product storage totes (bins) from shelving and robotically pick items from those totes to consolidate orders directly in the aisles.

Brightpick

Autopicker does not need to travel back and forth to centralized picking stations. This means warehouses need fewer robots to fulfill orders.
The fully autonomous, end-to-end robotic solution takes less than a month to deploy, enables warehouses to reduce their picking labor by 95% and cuts costs for order fulfillment by half.

Brightpick

Autopicker can pick groceries, cosmetics, personal care products, electronics, pharmaceuticals, apparel and more with 99.9% accuracy.
The robot also comes with goods-to-person capabilities for items that require human dexterity, and is able to autonomously find the nearest human to complete a pick if needed.