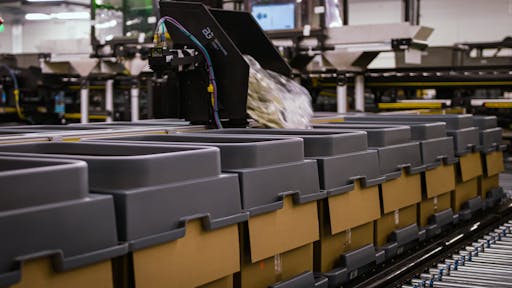 Berkshire Grey
Berkshire Grey, Inc. released a robotic shuttle product sortation (RSPS) solution for store replenishment, split-case cross docking and allocation order processing. By automating store order sortation and packing, RSPS increases processing capacity and throughput for existing operations without adding labor, helps right-size store inventories and enables e-commerce fulfillment from stores to scale.
"Our robotic automation enables the merchandising practices that drive retail growth while improving operating expenses in distribution centers and 3PLs tasked with executing the replenishment and allocation order strategies retail growth requires," says Tom Wagner, founder and CEO at Berkshire Grey. "Berkshire Grey's AI-powered robotic shuttle product sortation solution is the pathway forward for distribution operations to deliver competitive advantage at compelling margins despite facing increasing labor scarcity."
From GlobeNewswire:
The RSPS is a fully integrated system powered by core AI software that enables distribution centers to improve order processing at existing facilities using current workforces, with minimal disruption to ongoing operations during installation.

RSPS enables retailers, grocers and 3PLs to be more competitive, increase throughput and drive growth despite labor shortages.