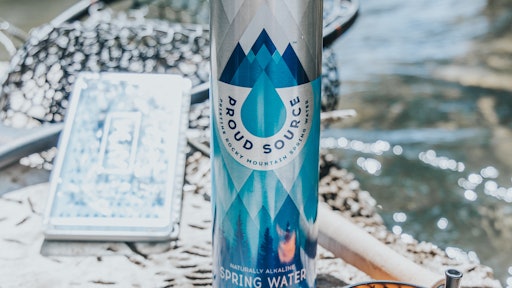 Proud Source Water announced the closing of its first institutional funding round. The next-generation, eco-friendly brand will use the capital to deepen their roots in existing retail channels and expand into new channels and priority markets.
Offering naturally alkaline spring water with zero additives, and packaged in infinitely recyclable aluminum bottles, Proud Source provides consumers with a better-for-you product that has naturally occurring minerals and electrolytes. Alkaline water has been linked to health benefits such as increased energy, improved metabolism, hydration and digestion as well as lowered cholesterol, blood glucose and blood pressure levels. Since launch, Proud Source has seen significant growth in alternative distribution points in natural grocery, food service and direct-to-consumer sales.
"Mackay, ID, which is home to our small community of hard workers, has always been known for its pristine, naturally filtered and minerally rich water," says Proud Source Water's president CJ Pennington. "With this investment capital, we can deliver it straight from the source to consumers nationwide as we focus on overall growth. Plastic-free is the future and we can't wait to hydrate more communities the right way."
Proud Source Water's state-of-the-art facility is located at the base of Idaho's Mt. McCaleb. The company sources its water deep in the Rocky Mountains using a gravity-fed supply system to reduce energy consumption. The company is a certified B-Corp and 1% for the Planet member, donating a portion of annual sales to environmental initiatives such as cleaning the ocean. Proud Source is also a key player in the local Mackay community, creating jobs and bringing a new sense of pride to the once-vibrant Rocky Mountain mining town.
AF Ventures (formerly AccelFoods), a lead investor in the round, will serve as a key strategic partner, helping the sustainable water company scale operations and expand brand reach on the national level.
"Proud Source Water's recyclable aluminum packaging offers consumers a much-needed alternative to plastic bottles, which are filling up our landfills and oceans," said AF Ventures' managing partner Jordan Gaspar. "Through our extensive network of major retailer and distribution partners, we see tremendous opportunity to grow this brand well beyond its current footprint. Proud Source Water is a mission-based company with business practices built around conscious responsibility for our planet. Proud Source is making choices today, for tomorrow."