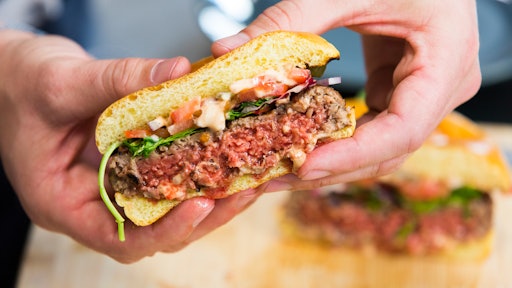 Impossible Foods
The Plant Based Foods Association (PBFA), the trade association representing over 160 plant-based food companies, has released the first-of-its kind standard for labeling plant-based meat alternatives.
The goal of the voluntary standard is to promote consistency in labeling across the plant based meat category, which grew by over 10% in the last year in grocery stores and is now a standard feature in numerous restaurant chains.
"As consumers increasingly seeking out plant-based meat options, the Plant Based Foods Association is leading the way by promoting a labeling standard that suggests clear labeling terms that consumers understand," says Michele Simon, PBFA's executive director. As the industry leader in plant-based food advocacy, last year PBFA released voluntary labeling standards for plant-based milks.
The standard allows for references toward the type of animal-meat and the form of the product (nuggets, burger, etc.) along with a qualifier that clearly indicates that the food is plant-based or vegetarian.
Qualifiers include:
Plant-based
Vegan
Meatless
Meat-free
Vegetarian
Veggie
Made from plants
Other similar phrases
As plant-based foods continue to grow in popularity, so do threats from special interests. The agency is ensuring its members can label their foods in ways that consumers understand.
In addition to the voluntary labeling standards, PBFA is engaged in policy battles to defend its members constitutional rights to common sense labeling.
The PBFA plant-based meat standards committee consisted of representatives from the following member companies: Beyond Meat, Hungry Planet, Lightlife and Field Roast, Morningstar Farms, No Evil Foods, Tofurky, and Upton's Naturals.