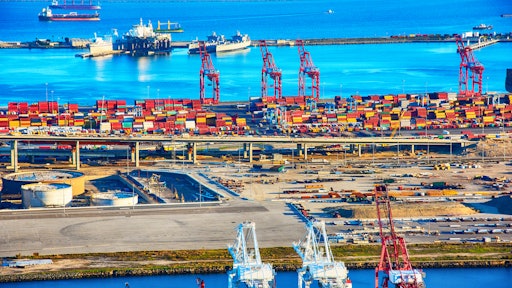 Getty Images
California Cartage is closing its Wilmington warehouse at the Port of Los Angeles in July, taking 800 jobs with it.
The company is blaming the Teamsters Union for the closure as employees have been attempting to unionize since 2016, preventing the company, which is owned by NFI Industries, from negotiating a lease with L.A.'s Harbor Commission.
The Daily Breeze reports that a vote on whether to form a union in 2016 didn't succeed, and the Teamsters blamed the company on breaking numerous laws such as "unlawfully threatening and intimidating workers."
Cal Cartage will have six months from the time the agreement is signed to wind down its operations at the Wilmington warehouse facility. It is unclear if the company will attempt to negotiate a separate lease for its two trucking subsidiaries to remain on the property.
"This is a very sad day for Cal Cartage, our employees, our customers and the Wilmington community," says Sid Brown, CEO of NFI in a statement. "We have been fighting, with the help of our employees, for the past four months to negotiate a deal to keep this facility open long-term. This is not the outcome we wanted. Because of the Teamsters' efforts, we now have been left with no other option but to shut down the Wilmington operation."
Meanwhile, the teamsters port division director Fred Potter says, "NFI should act responsibly and stop pointing fingers at the teamsters when its NFI that has continuously and persistently broken the law."