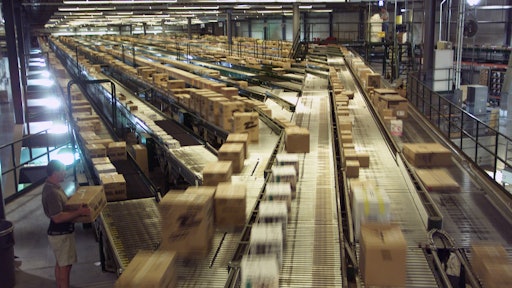 Walmart is testing a two-day shipping subscription service and building a regional delivery network as the world's biggest retailer tries to rival Amazon.com Inc., according to The Wall Street Journal.
As part of the project, Walmart will rely on eight massive e-commerce warehouses around the country, the last of which will be built by year's end. It will also tap regional carriers to deliver more of its packages, say people familiar with the matter. That is a shift away from FedEx Corp., which handles the bulk of Walmart's parcels.
Last year, Walmart began experimenting with a three-day shipping service for members who pay $50 a year. The program called "ShippingPass" is similar to Prime, Amazon's $99-a-year service with free two-day shipping.
Starting Thursday, ShippingPass members will get free two-day shipping for $49 a year, says a Walmart spokesman. He declined to say how many people have signed up for the service, which is only available by invitation. Standard delivery on Walmart.com can take around a week.
Since 2014, Walmart has poured billions into beefing up its supply chain and technology to increase online sales, which increased 12 percent to $13.7 billion for the fiscal year ended Jan. 31. Amazon, meanwhile, clocked a 17.5 percent increase to $99.1 billion in online and electronic device sales in 2015.
To read more, click here.
Editors Insight: Walmart is trying to build its e-commerce density in order to make e-commerce more profitable, something that has proven more difficult than retailers anticipated. Food holds a key to achieving this density, supply chain experts have observed. If a retailer can deliver food, with its short shelf life, profitably, they can win big delivering merchandise with higher profit margins.
According to this Wall Street Journal report, Walmart outlined its vision for a network of regional delivery providers during a February meeting with regional delivery companies including LaserShip, OnTrac and United Delivery Service. This new, two-day shipping service will give the company a chance to learn the capabilities of potential delivery partners.
Retailers recognize that e-commerce holds the key to their future. Supply chain service providers that can support e-commerce will be the winners. 5-12-16 By Elliot Maras