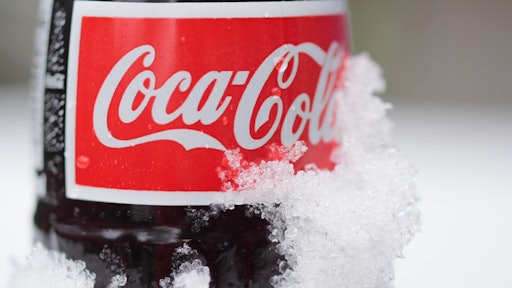 Coca-Cola Co. has changed course yet again on a basic part of its business model: how to control manufacturing and distribution without having to own them, according to The Wall Street Journal.
After years of snail-paced progress, the beverage giant is now racing to sell off its U.S. manufacturing and distribution operations by next year so it can focus on its much more profitable concentrate-making business.
This wholesale divestment push wasn't exactly what Coke had in mind when it acquired its largest bottler for $12.3 billion six years ago.
It initially planned to re-franchise delivery trucks and warehouses but hang onto its bottling plants. The goal was to close some, modernize others and create a national manufacturing footprint that would allow it to more quickly crank out new products to satisfy consumers with rapidly changing tastes. The new structure was also aimed at enabling it to negotiate directly with big retailers.
But Coke's bottling partners didn't want the trucks without the factories. Last September, Coke agreed to sell some U.S. plants. Last month, it said it would sell all of them.
Its investors were getting impatient after the beverage giant missed profit targets the last two years, making it a possible acquisition target amid speculation that beer-industry leader Anheuser-Busch InBev SA could try to buy the company in a few years. And Coke management knows it has to get moving to avoid becoming an acquisition target.
"The clock is ticking,'' said Carlos Laboy, a beverage analyst at HSBC.
Jettisoning asset-heavy operations will have a major impact on Coke. It estimates revenue will drop to $28.5 billion from $44.3 billion in 2015 terms under the stepped-up U.S. divestments announced last month. Operating margin will jump to 34 percent from 23 percent and head count will shrink to 39,000 from 123,000 as capital-intensive factories, warehouses and trucks come off its balance sheet.
To read more, click here.