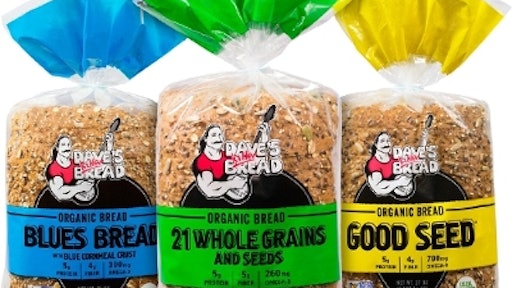 Flowers Foods, Inc. announced a definitive agreement to acquire Dave's Killer Bread from its existing shareholders, including members of the Dahl family and Goode Partners, for approximately $275 million in cash. The acquisition, which is subject to regulatory approval and customary closing conditions, is expected to be completed in the third quarter of 2015.
Founded as Nature Bake in 1955 by the Dahl family, the company assumed the name of its best-selling variety, Dave's Killer Bread, after it was an instant hit at the Portland Farmer's Market, where it launched in 2005. Dubbed the "best bread in the universe," by loyal fans, Dave's Killer Bread has grown to offer 17 varieties of whole-grain organic bakery products distributed across Canada and the U.S., and is now the largest organic bread company in North America. Its products have no artificial ingredients and are certified USDA organic, Non-GMO Project verified and rich with protein, fiber and whole grains, seeded all the way around and through.
Dave's Killer Bread employs 300 and operates one bakery in Milwaukie, Ore. Once the transaction is complete, it will be an independent subsidiary and is expected to continue expansion of its Oregon operations.
"We are very excited about the pending acquisition of Dave's Killer Bread," said Allen L. Shiver, Flowers' president and chief executive officer. "This is a well-positioned, fast growing company with excellent brand equity and an on-trend organic portfolio that appeals to today's consumers. The Dahl family and Goode Partners have built a great brand with a commitment to quality and community, two attributes that Flowers values tremendously. We are especially pleased to welcome the Dave's Killer Bread team members who will bring expertise and experience to our company."
Shiver noted that in addition to a new category, new brand, new products, and new customers, the acquisition would expand Flowers' geographic reach into the Pacific Northwest and Canada. "The Dave's Killer Bread team bakes bread that is truly unique. We see strong growth potential across our direct-store-delivery and warehouse businesses as we leverage our strengths to offer Dave's Killer Bread products to Flowers' existing customers nationwide," he said.
John Tucker, Dave's Killer Bread president and chief executive officer, sees tremendous opportunity ahead: "It takes a special bakery to bake the Dave's Killer Bread way – you've got to have the right equipment, the right people, and the right heart. That's why the partnership with Flowers Foods is such a great fit. Flowers Foods has a long history of producing whole grain breads, a deep understanding of the unique process that's required to bake a bread like Dave's, and full intention to maintain what makes our bread powerfully different: organic, whole grain and non-GMO ingredients and a commitment to seeing the potential in our people."
With anticipated fiscal 2016 sales of $160 million to $170 million, Dave's Killer Bread generated a revenue compound average growth rate of 32 percent over the past three years, driven by a dedicated and loyal customer base, geographic and channel growth and great tasting products. According to IRI data, the organic bread market has grown at a rate of 27 percent over the past four years, significantly outperforming the broader $23 billion retail baked goods market. IRI data also illustrates Dave's Killer Bread's successful track record of growth, showing the brand increased retail sales by 25 percent in the past year, and by 168 percent versus three years prior.
Flowers plans to fund the acquisition using its existing revolving credit facility and available cash. The company anticipates the transaction will be neutral to fiscal 2015 earnings.
Deutsche Bank acts as financial advisor to Flowers Foods on the transaction. Jones Day LLP is Flowers Foods' legal counsel. Dave's Killer Bread is represented by Davis Wright Tremaine LLP.