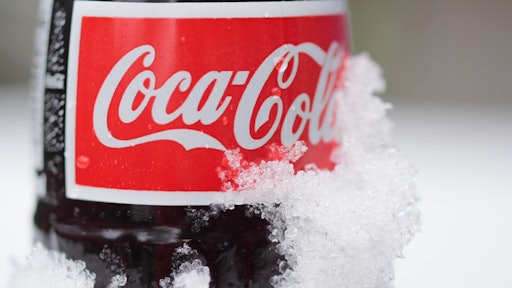 Three bottlers of Coca-Cola Co. products in Europe are in advanced talks about a merger that would further a push by the U.S. soda giant to consolidate its bottlers around the world and lower costs, according to The Wall Street Journal.
Coca-Cola Enterprises Inc. is discussing a tie-up with Coca-Cola Iberian Partners and Germany's Coca-Cola Erfrischungsgetränke AG, according to people familiar with the matter. Terms of the potential deal couldn't be learned, but it is likely to be valued well into the billions of dollars.
Atlanta, Ga.-based Coca-Cola Enterprises, a big, independent Coke bottler in Western Europe, has a market value of $10.8 billion. Coca-Cola Iberian Partners, also independent of Coca-Cola, is closely held. Coca-Cola owns the German business.
As with all merger talks, and especially complicated ones such as these, it is possible they could fall apart before a deal is reached.
The deal would fit into a pattern of recent activity on Coke's part. Amid falling soda sales in many of its markets, including Europe, the company has been seeking to merge its smaller overseas bottlers into bigger, more efficient operations.
Larger bottlers would be better able to market and advertise Coke and other beverages and have more flexibility in pricing and packaging. Consumers have been moving away from high-calorie soft drinks toward bottled water, energy drinks and teas, taxing smaller, less efficient and flexible bottlers.
Coke has simultaneously been grappling with the refranchising of its North American bottlers, which has been expensive and slow to pay off.
Coke produces concentrates that it distributes to hundreds of mostly independent bottling partners across the globe. Making and selling concentrate is a higher-margin and less-capital-intensive business than bottling the soft drinks.
To read more, click HERE.