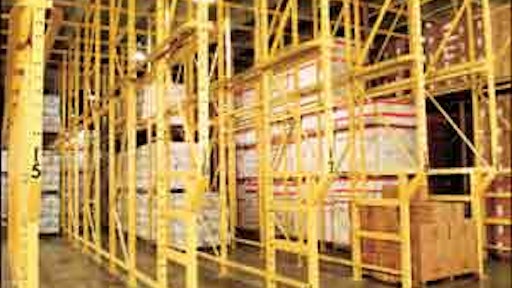 In the business world, dollars are the bottom line—whether you're trying to save as much money as you can or finding ways to bring the dollars in faster. The company that can do both equally well is ahead of the game.
In the warehousing world, this translates to a different paradigm—-the conflict is between maximizing the storage space in a facility and trying to decrease the amount of time it takes employees to access and ship products. The more you can ship out, the more you can sell.
"It's a dilemma," says Kevin Curry, national accounts manager for Steel King, Stevens Point, WI. "If you want to expand your business, you need to get another account and how are you going to get them? By promising that you'll be in stock at all times."
Curry says that most companies do this with racks that are deeper and taller. This creates a product accessibility problem and to meet delivery dates companies may have to add extra shifts to keep their promises. "Do you want to become bigger, meaning you have to spend more money on racks and put an addition on your facility, or do you want to be the company that's 100 percent accurate with every order?"
Companies must make choices, with these two principals in mind, when it comes to determining their racking strategies.
Maximizing For Throughput
"It's about throughput, which takes into consideration how warehouses can optimize their costs based upon getting as much through their facility as quickly as they can with as little damage as possible," says Ray Chase, president and CEO of Twinload, South Bend, IN. He sites increasing pallet flow and being able to handle two or more pallets at a time as key ingredients in the solution.
For example, All Star Distributing, a beverage distributor located in Reading, PA, had Twinload install drive-in racking in its facility that was double-wide. "Our fork lifts can pick up two pallets at a time," says Mike Sadowski, All Star's vice president of operations. "That way we can drive into the racking and load up two pallets into it at a time."
This allows workers to load or unload trailers in half the time that it would take with a single fork lift. All Star uses the drive-in racking for fast-moving items like Coors Lite 30 packs, which it receives in trailer load quantities.
"I'd give myself more throughput capacity and sacrifice a little storage," says Dwight Dbeery, vice president of engineering services for Next Generation Logistics, a third-party logistics consulting group based in Inverness, IL. "The most important thing you can do in a warehouse is to provide for the outbound needs of the operation."
One way to do this is to increase picking rates and use single-deep selective racks.
"If they're trying to maximize their picking efficiency or putaway, having a single select gives them the best access. They don't have to worry about getting the product out from behind something else," says Brian Hudock, a partner at Tompkins Associates in Raleigh, NC.
"Single-deep selective rack is good for fast-moving low inventory SKUs where you've got 1,000 or 2,000 SKUs and many only move five to 20 cases a week," says Dbeery.
Another method of increasing throughput, Dbeery explains, is segregating all full pallet flow into a different section of the warehouse designed to be fast-in/fast-out. "Put them by themselves, sacrifice a little bit of storage capacity by using either two-deep selective racks or two-deep pushback racks back-to-back between aisles."
This will increase the number of aisles in a facility, but will also increase throughput.
Unfortunately, the proliferation of SKUs is adding unwanted complexity to today's racking systems, thereby slowing down product throughput.
"How many types of Slim Fast shakes are there?" Steel King's Curry asks. "Now they probably have 10." And they have to have a spot for everyone of them.
"Cold storage companies are going two-deep. They used to go 10-deep because they had massive amounts of product, but now, because there are so many variations of the same product, they have to have more selectivity. They're going with shorter depth systems now."
Companies such as All Star are receiving these variations in smaller product quantities, sometimes in the two-to-three pallet load range. For that, Sadowski turns to shallower pushback racking. "We put that right up on the two-deep and three-deep," Sadowski says, "which allows us the storage we need, but also makes it accessible for us."
Maximizing Storage Space
The high cost of warehouse space—especially cold storage—is driving a trend towards better space utilization. Companies are putting the emphasis on cubing-out every available inch of space that they can, to get the most out of it.
"It used to be that a 30-foot clear height facility was the standard, but 40-foot ceilings are becoming common in food distribution," says Steel King's Curry.
"Today with the cost of real estate, you don't need as big a footprint; you don't need as much real estate because you can go up higher," agrees Jeff Warneke, vice president of sales for Unarco, Springfield, TN.
As the racks get taller, warehouse aisles are shrinking as companies turn to narrow aisle racking systems.
"The beauty is if you have 10 aisles in a facility and you change them from 12 feet to 10.5 feet, you save 15 feet that can now be used for additional product storage," says Steel King's Curry. "Companies want to get more space for product—they don't get anything for an aisle."
Another method of maximizing storage space involves changing existing selective racking over to deeper storage racks.
AmeriCold Logistics is an Atlanta-based third-party supplier of temperature-controlled supply chain solutions, which operates 102 facilities across the country. The company wanted to find ways to maximize the amount of storage space in its facilities, so it turned to Steel King to find a cost-effective, high-density storage solution that would require fewer aisles, while providing deeper storage than selective racking would.
Steel King provided AmeriCold with drive-in racking solutions that were two pallets deep and between four-to-six pallets high. The drive-in racking allows fork lift operators to drive into the structure itself and thereby gain access to palletized loads. Because of this, drive-in racks are able to provide up to 75 percent more storage space than typical selective type racking.
"Drive-in storage racks help us get denser product storage and a better setup," says Jim Romine, Americold's director of engineering support.
For warehouses that have large volumes of products, Tompkins' Hudock suggests flow-through racking, which involves putting pallets of products in one end of the rack. These automatically flow to the forward end. This keeps the product rotating continually, as long as the racks are kept full. "It's a little bit more expensive, but it does allow for more high density storage and very good product rotation."
Finding The Balance
Warehouses need to maximize storage space and somehow get product out the door on a timely basis. To accomplish this, experts suggest that planners think strategically.
"It's really dependent on the mix of product," says Tompkins' Hudock. When his firm consults with customers, he needs to know information such as what the hold time on the various products are, as well as the lot or batch sizes involved.
Often, racking solutions depend on the type of businesses the facility caters to. For a foodservice company that is delivering specialty items to restaurants, experts recommend shallow racking. "Those type of products don't sit on the shelves very long," says Curry. "Those types of operations should consider single-deep, selective rack or two-deep pushback."
The bulk storage facilities that quickly turn around mass quantities of goods, like frozen french fries, should use some deep storage and vary that with two-deep racking for SKUs that are variations on the same theme, like crinkle cut french fries, steak fries, etc.
Next Generation's Dbeery suggests using the classic 20/80 Pereto ratio to help determine racking solutions. This says that 20 percent of a company's fastest moving SKUs account for 80 percent of its volume. If a company's inventory falls into this ratio, he suggests concentrating these top 20 percent SKUs in back-to-back two-deep selective rack or back-to-back pushback and then focusing on pushing full pallets of the fast items out of that area.
Sadowski says his company looked at its product portfolio when it was evaluating its racking options and decided how much inventory it would be able to bulk store with three-high deep racks.
"Then we looked at the rest of our inventory," he explains, "and decided we needed to do some selective pushback as well. We took the time to figure out the percentages that we needed to operate efficiently."