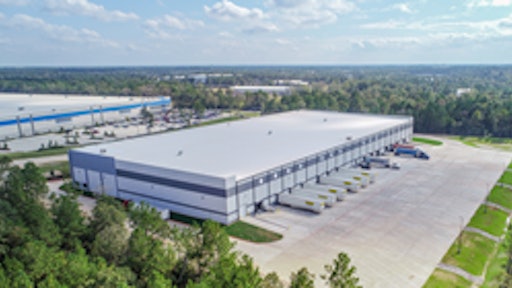 Buske Logistics
Cadence McShane Construction Company has completed the design-build construction of a new state-of-the-art food-grade warehouse in Conroe, Texas on behalf of their client, Buske Logistics. The build-to-suit industrial development incorporates a single building with 145,222 square feet.
Designed by Powers Brown Architecture, the tilt-wall, rear-load facility offers 2,500 square feet of office space and a 145,222-square-foot warehouse with a 39′ clear height, 15 truck docks, and two drive-in doors.
The 17.95-acre site also includes a truck court, 133 vehicle parking spaces, drive areas, and detention basins.
As a design-build project, Cadence McShane was engaged by Buske prior to finalizing the design. Cadence McShane worked closely with both the client and architect throughout the design process to determine the desired shell layout and building features.
"The Buske Warehouse was an exciting design-build project, and we're confident that Buske Logistics is going to love their new facility," shared Colby Rose, Vice President and Regional Manager at Cadence McShane. "Designed to offer logistical advantages and positioned just minutes from I-45, the development is ideal for this type of user."