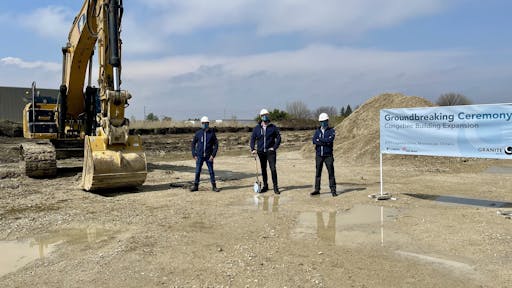 Congebec Inc.
Congebec Inc. began the second phase of construction in expanding its Mississauga, Canada, facility to grow cold storage space from 170,000 square feet to 232,600 square feet and further increasing its storage capacity by 12,000 pallets.
"We aim to continue our mission to connect food to the world by working to feature innovative and energy efficient operations in our facilities, therefore aligning with our values and our sustainable development initiatives. Our modern construction in Toronto will ensure high-quality and safe food products to our customers and to consumers," says Nicholas Pedneault, president and CEO of Congebec.
From PR Newswire:
This facility will be equipped with power conditioning and an electric energy saving system to filter and optimize power quality and maximize energy savings. This world-class freezer/cooler design will feature market leading physical attributes starting with its efficient building envelop that reduces heat islands with its unique white roof.
To protect new equipment and increase power quality, capacity banks will be installed on our transformer. Additionally, a dehumidification system will be installed for the office space.