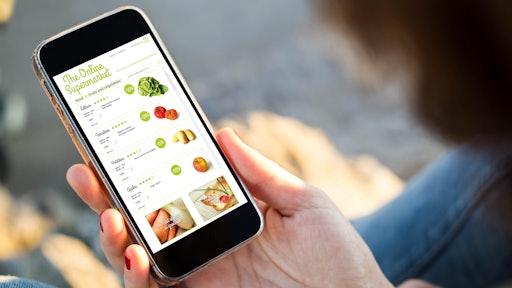 Vroozi
Grocery digitization is not new. But, the Coronavirus disease (COVID-19) has accelerated the industry into the express lane, forcing supermarkets to adapt quicker than planned.
The pandemic has completely transformed consumer behavior and shifted a higher proportion of the food supply chain to neighborhood grocery stores. There's also been a drastic change to the way people shop and buy, with a significant rise in demand for delivery services, pick up and online ordering, with services seeing up to a 150% surge in orders.
Most experts say this new era of grocery shopping is here to stay. According to a report by Brick Meets Click and Mercatus, during the peak of COVID-related shutdowns in March, online grocery sales reached $4 billion. But, even as states began to ease restrictions, online grocery sales continued to grow, reaching $6.6 billion in May and a record-setting $7.2 billion in June. Comparatively speaking, online grocery sales totaled just $1.2 billion in August 2019.
The key to keeping up and getting ahead: Procurement and AP digitization
Despite the revenue growth, margins still lag, as building out various fulfillment options can be costly. Complicating things further is the increase in competition among online and home delivery options.
To profitably keep up in this rapidly changing market, grocers must replicate the consumer-facing disruption within their backend financial operations. This requires a complete modernization of finance and procurement operations, with a focus on boosting efficiency and agility, reducing indirect operational costs and increasing spend under management.
While modernizing backend operations may sound daunting, its critical in today's environment. Here are a few areas to start with:
1. The supply base
One thing the pandemic has taught us is the importance of having a diverse set of suppliers, so if one can't deliver, you can quickly pivot. Back in the spring when COVID-19 first became widespread in the United States, grocers struggled to keep the toilet paper and paper towel aisles stocked. While these consumer items grabbed the headlines, there were also operational shortages on critical indirect items, like personal protective equipment.
Grocers that were forced to communicate with suppliers manually struggled to adjust to the new pace and the rapid changes to demand. On the other hand, grocers that had digitized supplier management were able to maintain and increase speed, efficiency and agility. With a digital supply base, operational teams can easily collaborate and communicate with vendors and suppliers electronically vs. interacting via phone and email. This improves visibility and reduces inefficiencies and errors, which is especially critical in time of crisis. And, when an issue arises, causing teams to seek alternate suppliers, a centralized supplier directory can help your team find and buy the goods they need at pre-negotiated rates.
2. Invoices and payments
Paper-based processes like vendor invoices and payments not only are hard to manage, but they eat away at the bottom line. In fact, the average cost to manage and pay a paper invoice in the grocery industry is $25-$35. And, that doesn't take into account the cost associated with payment operations, overpayments, duplicates and payment errors.
Modernizing these processes equips grocers to have more control over who they're paying, how much and when. Not to mention, eliminating the manual processes results in improved workflow and realized payment rebates. And, in the "New Normal" of remote work, eliminating the need for employees to go into the office to write out or cash paper checks creates huge process efficiencies. In fact, the time and costs saved by going digital often pays for itself within a year.
3. Business purchasing
As grocers, you put your customers first. But, that doesn't mean you can't modernize your approach to indirect purchasing. When it's time to invest in strategic items like freezers or shelving, or even purchase small items like office supplies, you should be reaping the benefits of negotiated discounts just like your end-customers ultimately do when it comes to your inventory.
A user-friendly purchasing system that your employees actually want to use, keeps you in control with digital workflows that allow procurement and finance to approve purchases, resulting in less rouge spending and improved spend visibility. With automation, the team will be freed up to focus on more strategic work rather than keeping track of manual purchase orders, requisitions and approvals via email or on paper.
4. Reporting
In an industry with razor-thin profit margins, having full visibility into your organization's spend makes all the difference when it comes to making proactive and strategic decisions about where to cut costs and negotiate rates. Digitizing with modern tools that proactively perform spend analysis across all related categories and capture all financial and procurement related data in one centralized location makes this possible. Optimizing spend by supplier, category, within budget, and pricing associated with critical goods and services, not only increases visibility and leads to move savings, but it also helps manage supplier risk.
In this era, grocers can't afford to move slowly. A modern, fast-moving front end requires a digitized back end – the benefits of which can't be ignored—more spend under management, lower costs for goods and services and increased efficiency.