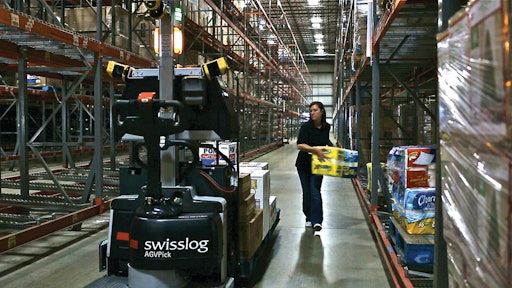 One of the most difficult decisions that a business manager faces is investing in new technology while it's still evolving. In the food and beverage supply chain, few technologies present greater efficiencies than automatic guided vehicles (AGVs); trucks that transport pallets independent of a human attendant. AGVs can reportedly increase full-case picking productivity by 25 percent or more, simply by eliminating one of the most labor-intensive jobs in many distribution facilities – the order selector who gets on and off the vehicle during full-case picking.
With capital equipment budgets returning to pre-recession levels, supply chain managers are taking a closer look at AGVs.
Most AVGs to date have deployed in manufacturing facilities, according to the Material Handling Institute of America (MHIA). The MHIA's Automatic Guided Vehicle Systems Industry Group recently reported that manufacturing operations have accounted for three quarters of all AGVs.
Crown Equipment, in a 2012 white paper on AGVs, noted that manufacturing processes are predictable and repeatable, making them an ideal candidate for automation. In addition, manufacturing has more consistent daily output compared to a dedicated distribution warehouse.
Forklifts supporting these processes usually move products from one station to the next or from manufacturing to shipping at regular intervals. Vehicles travel the same path repeatedly with no need to navigate around other vehicles.

AGVs find place in distribution
In a dedicated distribution warehouse, AGV requirements are more complex and less predictable than a manufacturing warehouse, Crown Equipment's white paper notes. In a dedicated distribution warehouse, AVGs sometimes have to travel to multiple locations in a short time period and must be able to adapt on short notice. This limits the utility of vehicles that operate only in automatic mode as they lack the adaptability required.
Navigation technology is currently limited in its ability to dynamically adapt to changes as simple as encountering pieces of stretchwrap or cardboard left on the floor, Crown Equipment's white paper notes. Lacking the intelligence to navigate these obstacles, the vehicle will stop and wait, requiring a person to physically remove the obstacle and restart the vehicle.
"In contrast to manufacturing, distribution operations tend to have more labor involved in order-picking activities," says Marc Wulfraat, president of Montreal, Canada-based consultancy MWPVL International. To utilize the benefits of AGVs, he notes, "there would need to be a high level of activity where human operators and AGVs work side by side within the same operating aisle, and this is something that managers are not always comfortable with at this time."
Nevertheless, AGV navigation technology continues to advance, creating new efficiencies for manufacturing and distribution warehouses alike. A Food Logistics informal survey of AGV manufacturers indicates that distribution facilities are beginning to show more interest.
The MHIA notes that with the advent of point-and-click and drag-and-drop graphics in control software, AGV systems can be reconfigured to create new paths in a matter of minutes. AGVs are also now equipped with interface screens that make it easier to diagnose problems that may develop. AGVs and their control software system can also be accessed remotely for additional diagnostics and support; functions that were not available a few years ago.

Vision-guided navigation emerges
Several lift truck manufacturers have introduced automatic guided vehicles in the last year that use some of the newer technology. Rudi Koetter, automation manager at Raymond Corp., says his company got back into automatic guided vehicles in the last year and a half because of progress in modern sensor technology and computer processing power. In addition, the emergence of natural feature recognition navigation enabled the development of easy-to-use and easy-to-implement automated lift trucks.
Raymond trucks with the Seegrid technology have been finding use in food retail warehouses, notes Koetter. He says the vehicles can be driven manually as well as autonomously. He says one operator can manage up to five vehicles at one time for picking pallets and transporting them to a drop zone.
Vision-guided navigation, which uses digital video cameras to record the vehicle's path in the warehouse and map out the route, has emerged as one of the most economical and efficient AVG technologies in recent years. Vision-guided vehicles, pioneered by Pittsburgh, Pa.-based Seegrid Inc., have been heralded as an alternative to the laser-guided AVGs that require reflectors to be mounted throughout the warehouse.
Seegrid's vision-guided technology offers ease of installation, ease of use and less cost compared to reflector-based systems. A new map can be generated when the vehicle's path needs to change.
"A traditional AGV is much less flexible and it's highly expensive," notes Amanda Merrell, spokesperson for Seegrid.
Toyota AGVs follow a self-adhesive magnetic tape which makes setup simple and requires no floor modifications, according to the company. Toyota's system features multiple path programming, retractable towing pin, remote communication, and safety items including optical sensors that can be programmed for different zones to allow safe operation near pedestrians and in confined spaces.
Manufacturers of laser-guided AGVs acknowledge the vision-guided systems bring a new set of benefits, but they are quick to point out that warehouse managers have to understand their own specific needs before investing in a system.
"Vision-guided AGV systems have come a long way, implementation is fast, but it has to be a simple layout and simple tasks often with human intervention at each end in regards to the dispatching, and a reliable traffic control is non-existent so far. When changing the layout, many segments have to be re-recorded." says Roland Anderson, owner of Amerden AGVS, the St. Augustine, Fla.-based AGV manufacturer.
Laser-guided AGV systems require a planned and designed map for installation of the reflectors and programming the vehicles, Anderson says. "But when it is done, only software work is required to change the layout and functionality and you can have as complex an AGV system as there is. There is a lot more to it than the guiding system. A laser-guided vehicle has the complete intelligence to report and track all movements as well as production and inventory control within the system and be connected to any WMS and enterprise software," he adds. "There are many AGV tasks in a system operation a vision-guided vehicle cannot do yet; there are no AGV tasks a laser-guided vehicle cannot do."
Laser guidance versus vision guidance
"In a warehouse, things are constantly changing," notes Brad Moore, vice president of AGVPick global accounts at Denver, Colo.-based Swisslog, which provides laser-guided AGVs. "Laser guidance is precise as the reflectors are always in the same location." Swisslog offers its laser-guided AGVPick solution on electric pallet trucks made by Marengo, Ill.-based UniCarriers Americas.
Moore notes that Swisslog installs the reflectors in the facility and maps the routes. The AGVs work in concert with voice picking in order fulfillment operations.
Both Anderson and Moore agree that the vision-guided systems are improving.
Giant Eagle Inc., the Pittsburgh, Pa.-based supermarket chain serving the Midwest, now uses four Seegrid's GP8 double robotic pallet trucks at its Grafton, Pa. support center. The company uses trucks to move inbound-delivered pallets to a drop zone directed by its WMS.
A screen and a barcode scanner are mounted on the backrest of the AGV. As soon as an operator scans the barcode on two double stacked pallets, the screen displays the drop location of the pallets. The operator then enters the start, drop, and end location into the screen. The AGV then travels on its route and drops off the pallets.
Rob Kuchta, distribution systems manager at Giant Eagle, says the Seegrid vision-guided system is easy to use. "You walk with it one time to show it what you want it to do," he says. He says the Seegrid software instructs the AGVs to stop at intersections if another vehicle is going by. "It's smart enough to say, 'I'm going to let this one pass.'"
Before Giant Eagle introduced the automated system, a driver had to drive pallets to a "reserve" location, then drive back to the receiving dock. With AGVs, Kuchta estimates they save 35 percent to 45 percent per pallet hauled.
Giant Eagle used a wire-guided AGV several years ago, Kuchta recalls. When the warehouse was rearranged, the wires had to be reinstalled. "Every time you want to do a change, you have to have the engineer come in," he says.
Raymond trucks with the Seegrid technology have been finding use in food retail warehouses, notes Rudi Koetter, automation manager at Raymond. He says the vehicles can be driven manually as well as autonomously. He says one operator can manage up to five AGVs at one time for picking pallets and transporting them to a drop zone.
Jeremiah Miele, responsible for research and development for robotics at Genco Inc., a Pittsburgh, Pa.-based 3PL, says reflector-based navigation AGVs currently have a place for specific applications, however, non-landmark-based navigation (such as vision-guided systems) is rapidly closing the gap. Miele notes that the navigation system is only one consideration in choosing an AGV. He says companies also have to consider speed, drop-off and pick-up capabilities and other factors.
Genco is currently testing an AGV made by Balyo, a France-based logistics technology provider which has developed a "geo-guided" navigation system that uses laser devices and natural markers in the environment.
Balyo maps out the warehouse and creates routes for the AGVs, notes Jean-Marie Bergeal, CEO of Balyo Inc., the North American subsidiary of the France-based parent. No infrastructure is required for the AGVs to operate, and a bar code scanner can be mounted on the AGV to scan the pallet's license plate, for a complete WMS integration.
Although the technology allows for the automation of any electric truck, the company focuses on truck manufacturers interested in partnering with it.
In the U.S., the company is planning its first installation that will use multiple AGVs based on a Yale pallet jack. The client anticipates an ROI under one year.
In Europe, the parent company now has numerous installations, with the most recent one counting 10 AGVs. In this large distribution center, the AGVs take dollies coming out of an ASRS, and directed by the WMS, bring them to the proper loading docks.
Most operations will benefit from a careful examination of both the environment and the processes used in it before investing automated forklifts, Crown Equipment notes in its recent white paper.
Safety, reliability, flexibility and scalability of the technology should be evaluated in the context of the long-term automation strategy, the white paper notes.
For more information:
Amerden AGVS, amerden.com, 904-826-4490
Baylo USA, baylo.com, 888-291-6270
Crown Equipment, crown.com, 419-629-2311
Genco Inc. genco.com, 800-677-3110
Material Handling Institute of America, mhi.org, 704-676-1190
Raymond Corp., raymondcorp.com, 800-235-7200
Seegrid, seegrid.com, 877-733-4743
Swisslog, swisslog.com, 757-820-3616
Toyota AGV, Toyotaforklift.com, 800-226-0009
Unicarriers Americas, unicarriersamericas.com, 815-568-0061
Factors to consider when investing in an AGV
Forklift automation is still evolving to the point where it holds real promise to be an integral part of the warehouse of the future. Andy Smith, general manager, marketing product management at Crown Equipment, offers the following questions for companies considering AGVs.
Do we have an application that suits current forklift automation systems? High-volume picking and predictable product movement over a well-defined path have emerged as the best applications for current-generation technology.
Do we need vehicles that can operate in manual and automatic mode? Traditional AGVs may be suitable for some applications but lack the flexibility many warehouses require, particularly those with seasonal peaks or other variations in workload. Vehicles that can accommodate both automatic and manual operation provide the flexibility required — if they are robust enough to operate reliably in each mode.
Will new technology introduce any safety issues? A safety audit is an essential first step in any automation project. If you can't answer this question in the negative, it may not make sense to move forward.
Is our environment ready for automation? Congestion and damaged pallets can derail a forklift automation project. Have sources of congestion been identified and eliminated?
Companies in this article