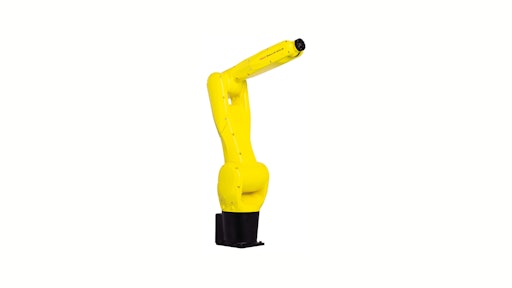 FANUC
FANUC America introduced the new LR-10iA/10 robot designed for machine tending and a variety of picking applications found in the warehousing and logistics markets. 
"The new LR-10iA/10 is a great solution to help manufacturers and distribution centers overcome obstacles associated with labor shortages, while improving throughput and reducing operating costs," says Eric Potter, general manager of FANUC America's General Industries and Automotive Segment.   
From BusinessWire: 
Weighing just 46 kg, the LR-10iA/10 robot mounts to the floor, upside down or on an angle.

The fully enclosed structure features built-in airlines, solenoid valves and electrical utilities for easy integration, and an IP67 rating allows it to operate in industrial environments with dust, water and oil mist.

Powered by the FANUC R-30iB Mate Plus Controller, the LR-10iA offers the same intelligence and reliability available on all FANUC robots, including integrated iRVision, force sensing and Zero Down Time (ZDT).