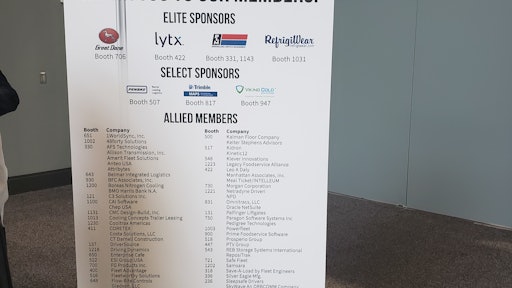 Food Logistics is attending IFDA DSC, the premier event where leaders in operations, transportation and technology gather with renowned speakers, innovators and disruptors to determine the future of foodservice distribution.
In the videos below we visit some of the companies that are making waves in food distribution today.
ISG
ISG technologies showcases its latest and durable barcode scanners and accessories like the new Zebra MC9300 at IFDA.
Lytx,
a global driver risk management company, is excited to introduce its new fleet solutions for safer driving.
Thermo King introduces its T-90 Series Diesel Powered Refrigeration System for medium to large trucks at IFDA. All units come equipped with ready to go tracking telematics. They also introduced the SLXI Local which is ideally suited for pup trailers because of its thin profile.
QProducts
QProducts brings its American-made Thermapacks to the showroom, demonstrating how they keep temperature sensitive products cool from each end of the supply chain.
Optricity is reducing picking labor with its latest OptiSlot solution.
Great Dane
Great Dane brings its latest smart trailer, FleetPulse, to IFDA 2019. The solution helps solve problems faster while increasing uptime by leveraging each trailer's usage and health data with access to Great Dane's parts list.
Stop by the Food Logistics booth (117) to get caught up on all things that are happening in our industry.
Companies in this article