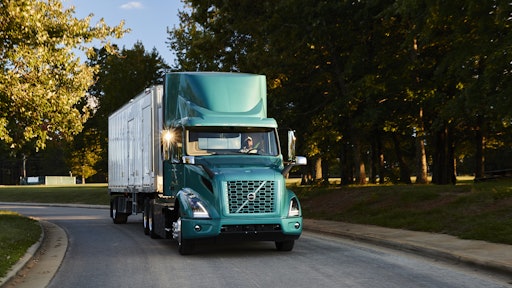 Uber Freight Volvo_VNR_1
Uber Freight, WattEV and CHEP announced a strategic, joint effort to deploy electric trucks on select routes in Southern California. As part of this collaboration, WattEV will provide electric trucking capacity to Uber Freight shippers, starting with CHEP. The pilot serves as an important milestone in electric freight transportation and establishes Uber Freight's first electric vehicle (EV) deployment.
"Electric trucks are finally here, and we're proud to partner with WattEV to offer Uber Freight shippers even more ways to move freight more sustainably," says Uber Freight head of sustainability, Illina Frankiv. "Electric trucks will have a profound impact on logistics, and we're excited to build the technology platform to enable their seamless integration into supply chains."
"We are proud to be a zero-emission transport solution of choice for Uber Freight and their customers," says Salim Youssefzadeh, CEO of WattEV. "Combining our transport business and our truck-as-a-service model, we are able to use Uber Freight's digital platform to serve the shippers and their customers with our zero-emission truck routes and services."
From Uber Freight:
This pilot will combine

Uber Freight's

expansive network of digitally-enabled carriers with WattEV's innovative electric fleet and charging infrastructure network. CHEP will be the first shipper to participate in the pilot, prioritizing electric capacity on the Southern California route.
The pilot builds on WattEV's mission to develop a nationwide network of heavy-duty charging facilities that will serve fleets of electric trucks. Via the

Uber Freight

platform, CHEP will be able to book, schedule and complete loads, track status and load KPIs and manage paperwork all in one place.
"Our business relies on heavy-duty road transport, which is one of the biggest challenges to transition our value chain to net-zero emissions by 2040, CHEP's long-term decarbonization goal. This first electric truck pilot in the U.S., in partnership with Uber Freight and WattEV, is a step in the right direction as we move towards a net positive impact. We are proud to partner with our carriers and our customers as we together scale up electrification opportunities and deliver on our shared decarbonization goals," says Marisa Sánchez Urrea, director of global supply chain decarbonization at Brambles, CHEP's parent company.