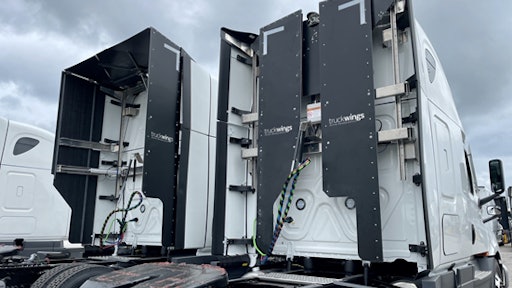 TruckLabs
For the past 3 years, the trucking industry has faced numerous challenges stemming from the onset of COVID-19. However lately, the disruptions have become more… disruptive and less predictive.
Present day, it's not just a lack of visibility that's creating bottlenecks along the way; today's challenges run deep, are more personal and stem from a variety of causes such as the passage of certain laws, the lack of agreements to better protect contract workers and more.
And, sometimes even the most cutting-edge technology can't predict what's going to happen next.
Marina Mayer, Editor-in-Chief of Food Logistics and Supply & Demand Chain Executive, talks exclusively with Dan Burrows, CEO and founder, TruckLabs, who details the challenges behind EPA's Phase 2 regulations alongside its ability to drive innovation and make for more efficient and sustainable cold food chain logistics.
CLICK HERE to read the article in full.
Food Logistics: The California Air Resources Board voted unanimously to finalize its Advanced Clean Fleets rule, which requires all new medium- and heavy-duty vehicles sold or registered in the state of California to be zero-emission come 2036. What does this mean for the future of trucking and transportation?
Dan Burrows: Of course, this ruling will drive more investment and innovation in zero-emission drive train options - and many exciting options are competing to be the best overall solution, including Hydrogen and electric.
Importantly, however, it will also drive more investments in the overall truck base performance. Aerodynamics, tire management, idle controls, etc. become much more critical in zero-emission vehicles as range and weight become bigger factors than in traditional diesel engines.
Food Logistics: The FMCSA changed its Hours of Service regulations to allow some expansions to the workday. Thoughts on how this helps/hurts the transportation industry?
Burrows: The recent changes to the HOS regulations will offer drivers more flexibility in their workday, potentially leading to improved efficiency and reduced delays. However, it's important to ensure that safety remains a top priority and that drivers have adequate rest periods to prevent accidents. With the targeted use of technology such as telematics and predictive analytics to analyze driver behavior, we can better manage driver hours while keeping safety in mind.
Food Logistics: Electrification in trucking continues to become more prevalent. In fact, the Infrastructure Investment and Jobs Act (IIJA) allocated $7.5 billion to establish long-distance EV traveling and install charging stations near residences or workplaces. What is your take on the future of EVs, and how likely is the supply chain industry in adopting this alternative fuel source?
Burrows: As we look ahead, it's evident that Class 1-7 vehicles are transitioning to electric as it proves to be the leading technology. However, regarding Class 8 trucks, the choice between hydrogen and electric isn't clear-cut due to range limitations. For the time being, renewable natural gas (RNG) and compressed natural gas (CNG) will continue to be viable cleaner alternatives to diesel for long-haul vehicles until a clear winner emerges. In the pursuit of maximizing range, improving the overall truck efficiency through better aerodynamics will play an important part in the solution.
Food Logistics: Describe some other trends and challenges in trucking and transportation set to impact the future of cold food chain logistics.
Burrows: The EPA's Phase 2 regulations set emissions standards for medium- and heavy-duty trucks from 2024-2027 will bring new challenges. These regulations are designed to reduce greenhouse gas emissions and improve fuel efficiency and require manufacturers to improve the aerodynamic design of their vehicles. This includes using features such as tractor-trailer gap reducers, aerodynamic bumpers, and side skirts, which can reduce drag and improve fuel efficiency. However, these regulations also require manufacturers to make significant investments in research and development, which can lead to higher costs for customers. Overall, the Phase 2 regulations will likely drive innovation in the industry, leading to more efficient and sustainable cold food chain logistics.
Food Logistics: What are some things not addressed above that may be pertinent to our readers?
Burrows: In today's global landscape, it's evident that major organizations across various industries genuinely prioritize sustainability, going beyond mere marketing rhetoric. The urgent need to address climate change has shifted the focus toward tangible actions and results. As a result, there is a growing recognition that measuring and setting true metrics for emissions reduction is paramount. This shift toward data-driven sustainability practices ensures a more accountable approach, enabling organizations to make informed decisions and contribute to a greener future.
CLICK HERE to read the article in full.