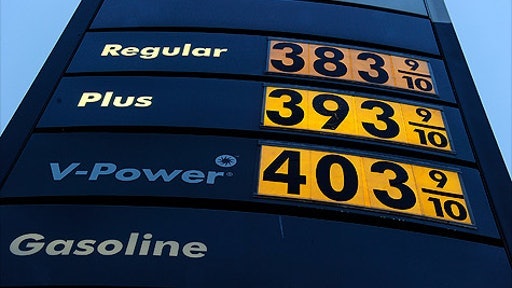 Getty Images
Rising fuel costs have disproportionately impacted small carriers, which make up more than 90% of the nation's trucking companies. During the start of the conflict in Ukraine, diesel fuel prices spiked to more than $5.25 for truckers, up nearly $1.50 per gallon from previous months. Because of nuances in the ways in which fuel contracts are structured in the trucking industry, rising prices don't impact all trucking companies the same.
Larger carriers know the number of goods they need to transport each year, which helps them set contracts in place with brokers to guarantee the capacity to move those goods. However, owner-operators and small carriers — already facing narrowing margins, lack of resources and limited access to quality opportunities — must navigate a contractless spot market. The spot market does not provide these smaller trucking companies the luxury of price protection that their larger peers receive from fuel surcharge contracts negotiated well in advance with shippers. Instead, these truckers must wait until shippers realize fuel costs are rising and then negotiate with brokers to adjust pricing to reflect these higher rates.
The last two years brought amazing rates to the spot market, as there were more goods than trucks to move them, leading to stronger bargaining power. This lucrative spot market also lured new independent truckers. But now, with less freight to be shipped and too many drivers, spot market rates are decreasing. Coupled with rising fuel costs, small fleets and independent truckers – who move a significant portion of the nation's goods – are losing money.
Here's a look at how these changes are hurting the broader supply chain and how it may lead to even more driver attrition.
Stalled supply chains
Owner-operators and small carriers often find themselves playing catch-up when fuel is on the rise. They operate on thinner margins because their overhead costs, like insurance, are typically higher than their larger peers, and additional expenses like rising gas prices are felt much more. They also don't have the luxury of fuel surcharges, which are baked into the long-term contracts of larger companies.
Truckers consumed more than 36.5 billion gallons of diesel in 2019. In a normal cost structure, fuel is about 24% of their expenditures, where today, it's close to 30%. If a trucking company's top line is not growing at the same pace as the cost of fuel (or worse, declining), margins become dangerously thin.
These factors have placed a squeeze on small carriers and owner-operators, who have become more selective about the loads they accept from brokers, often choosing to stay home instead of accepting a load that will lose money. To curb fuel costs, some truckers have started to monitor their speeds.
While this may appear to be an isolated issue for small fleets, it adds to an already stressed supply chain and its impacts will be felt well down the line. Goods and loads still need to get moved, which will create backlogs and more problems for shippers servicing their customers.
Driving retention
The profession is chronically in need of more truckers, however attracting them is half of the equation. Retaining them remains a critical concern, exacerbated by the increased pressure small trucking companies face with sky-high fuel prices.
In a recent survey of 1,000 American truckers, half of all respondents (50.4%) said they had considered quitting in the previous six months. The Top 3 reasons these truckers considered leaving include long and irregular work hours (65.1%), lack of stability from a fluctuating spot market (64.1%) and burnout from higher pressure and supply chain demands (63.7%).
Truckers had operated in a vibrant spot market in the last two years that enabled them to secure better rates for loads, shielding their bottom lines from cost increases such as fuel or insurance. But now, spot market rates are sliding backwards and their overhead costs – like insurance premiums, equipment/parts and even cost of living – keep rising. Any poor decision will drastically impact their narrowing margins. All of these factors immensely impact driver retention.
Support is needed for the road ahead
To continue to stay afloat in this current climate, these independent trucking companies need all the support they can get, from fuel discounts to recruiting and retaining drivers. The transportation industry is in need of an overhaul, and is seeing steps in the right direction.
Efforts have been underway to address the lack of drivers attracted to and remaining on the job. In early March, the American Trucking Association signed an agreement with the U.S. Department of Labor to help its member companies provide apprenticeships to new drivers. According to the release, the partnership will "enable motor carriers to better highlight the benefits of a career in trucking through the workforce development system nationally, including expanded outreach and training support, as well as expanded support services for prospective drivers."
The Biden Administration is also investing aggressively in the trucking industry. In a recent statement, the administration announced a number of initiatives aimed at spurring job growth in the sector, including taking steps to reduce barriers to truckers getting CDLs, a 90-day challenge to accelerate the expansion of registered apprenticeships and a focus on recruiting military veterans as drivers. But to date, the government's attention in trucking has been too focused on larger or legacy corporations, despite the outsized impacts the supply chain has on small carriers and vice versa. when the real supply chain threat impacts smaller fleets and carriers.
To help alleviate the challenges small carriers and owner-operators face, technology companies are working to increase topline while decreasing costs across payments, fuel, leasing and insurance. But truckers need solutions at a more fundamental level.
The U.S. government could provide support for small trucking companies with solutions such as:
Fuel tax subsidization for companies with less than 10 trucks as a short-term fix until gas prices return to normal.

Work with small trucking companies to haul government freight at quality rates.

Make low-cost loans available to small fleets and independent trucking companies struggling through inflation and a decreasing spot market.
For decades, truckers have waded through challenging situations. Today, with increased pressures from consumer demands, small carriers and independent truckers have become critical to the supply chain. We must rally around and provide better support for these frontline heroes.