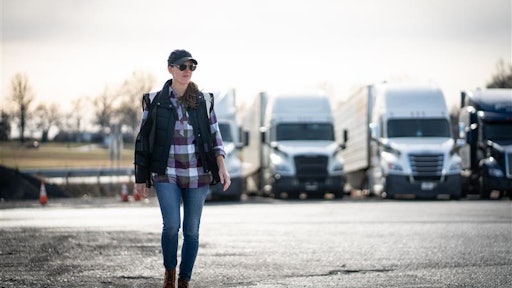 5m3photos - stock.adobe.com
American Trucking Association (ATA's) freight forecast shows that trucking moves 80.4% of all freight revenue. In 2020, trucks moved 70% of the surface trade between the United States and Canada and 83.8% of cross-border trade with Mexico, for a total of $695 billion worth of goods. The Cass Truckload Linehaul Index rose 1.5% in January and is up 7.2% year over year.
Rises in shipment and spending indexes are attributed to a lack of truck capacity during the driver shortage. Resulting from carriers not being able to meet increased supply demands, prices for shipment loads have increased. DAT Freight & Analytics reports that their Truckload Volume Index rose 11% in June 2021, just as shippers were facing tight capacity. Strong freight demand and tight truck capacity continue to squeeze the supply chain.
Another issue for the freight industry comes from the driver shortage. In order to replace all retiring drivers, the industry will have to recruit 1 million new drivers within nine years. Solutions to the driver shortage include increased pay, regulation changes and modifiers to improve conditions for drivers.
Utilizing new technology can improve working conditions and efficiency. Innovative tools such as logistics technology are one solution to deal with the driver shortage. Using apps and other new freight technologies can ease the burden of adjusting schedules, filling spots and dealing with driver unavailability.
How driver shortages are affecting truck rates
Transportation continues to be at the top of the list of jobs people are quitting. There are many reasons for this, including pay, comfort, health and safety. Drivers are paid by the mile instead of by the hour. So they often are not compensated for waiting times during processing.
Driver shortages have the ability to affect truck rates as well. A shortage of drivers can negatively affect overall caps on trucking capacity. Currently, increased freight rates can be upward of 10% for shippers whose freight did not match the carriers' needs in this sellers' market.
Shippers can avoid many rate increases by committing to using new technologies to be more efficient. With freight apps, truckers will have more flexibility. They can optimize the loading of their truck, resulting in an improved lifestyle for truckers and mitigating the driver shortage.
One of the biggest problems for truck drivers, especially independent or semi-independent contractors, is backhauling. They drive one way with a truckload of goods, but need to find goods to bring back on the road on their way back home. If they drive back empty, trucks remain empty and unused, lowering their income. An on-demand freight matching app can help drivers keep their trucks full at all times. This helps reduce the risk and cost of empty miles at any time during the journey home.
Unpaid wait times combined with the frustration of being stranded far from home and complications with directions create dissatisfaction with the job. Fortunately, these issues can be solved with technology that helps dispatch drivers and loads, gives easy-to-follow directions and ways for drivers to clock in and out by the hour. In addition, drivers enjoy the flexibility that such apps offer. They can choose which lanes they want to travel and get paid quickly. It will help get more drivers into the industry and fight truck driver shortages.
Future solutions
Freight apps can help shippers reduce shipping costs, the number of drivers needed and earn higher profits because transparency dramatically reduces labor costs for both shippers and carriers through system automation, document optimization and the use of artificial intelligence. When capacity is at its maximum, shippers have access to better rates for their shipments.
Freight apps also have the ability to increase efficiency and flexibility, which translates into higher productivity. This will obviously result in higher profit for both sides of the contract because shippers will have lots of capacity to choose from and truck drivers will get more favorable freight lanes, especially on their way back. Because apps handle pricing and price negotiation, this ensures that shippers get the lowest rate possible with speed, service and other metrics that matter to their customers.
Freight rates are expected to keep rising in 2022 due to shortages of truck drivers and transportation equipment. Shippers expect capacity restraints to worsen as the year goes on, while freight rates continue to rise. Even so, 76% of shippers said they expect to ship more in 2022, compared to 2021. Technological innovations like freight apps have the ability to improve truckload rates and alleviate the driver shortage. Companies can, and should, implement these solutions to be proactive against rising freight prices in the next couple of years. Increasing efficiency is the best way to maneuver the current driver shortage.