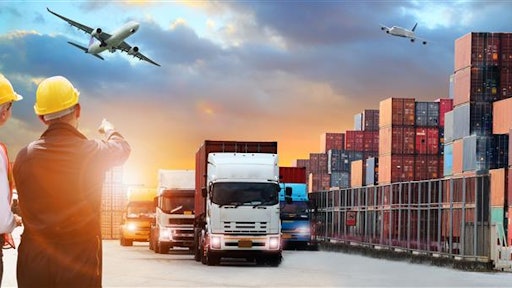 sittinan - Adobe Stocks
Data drives resource optimization and efficiency across every industry, including transportation. Commercial location data is a primary business intelligence tool, and transportation companies have relied on it more than ever to meet the unique challenges of the pandemic. This will accelerate in the coming year as companies prepare to compete in the post-pandemic economy.
Commercial location data in routing and navigation solutions, such as exact location boundaries, truck-specific entry and exit gates and actionable location information like hours of operation is the not-so-secret sauce many transportation companies were already using to operate successfully in the era of thin margins and increased competition before the Coronavirus disease (COVID-19) pandemic. This data can help companies streamline operations, provide insight into estimated times of arrival (ETAs) and keep drivers safe and efficient.
According to a McKinsey Global Survey on data and analytics, the companies that derive new value from data are more likely to be leaders in their industries and experience rapid growth. It's part of a larger accelerated digital transformation wave that is taking place. Last year, Gartner predicted that the use of location intelligence would grow four-fold by 2021. Given the events of the past several months, the transportation industry may even be ahead of schedule.
Here are three reasons why the industry will invest in commercial location data and technology in 2021 and beyond.
1. Safety. Keeping drivers safe on the road is always a top priority for transportation companies. In-cab navigation that routes using commercial location data, like specific truck entrances and exits as opposed to a consumer address, can help drivers avoid dangerous vehicle maneuvers and get to the right place, the first time. At an even broader level, commercial navigation solutions incorporate vehicle height, weight and load restriction data to route and guide drivers on safe, legal roads and avoid dangerous bridge strikes, which the Federal Motor Carrier Safety Administration has linked to commercial use of consumer GPS.
Fleets can also significantly improve driver safety by providing comprehensive navigation that displays real-time traffic congestion, weather alert areas, speed limit alerts and other advanced warnings to avoid potentially dangerous situations and allow drivers to focus on the road and reach their destination safely.
2. Efficiency. With the last mile making up about 28% of the total shipping cost, according to a Cerasis estimate, a huge amount of time and money is wasted when drivers are sent to an address that is not the actual, specific entrance where they are supposed to go. Since non-public driveways or facility access roads don't show up on many consumer maps, this makes using commercial location data a priority. When they are sent to the exact location the first time, operations automatically become more efficient.
Additionally, using commercial location data leads to more precise routing and mileage calculations and can improve load (and future load) planning, enabling better asset utilization for the back office. With facility hours of operation information, the fleet manager/planner can make optimal routing decisions, make adjustments automatically and get more accurate ETAs that can be communicated to the shipper. Further, utilizing a comprehensive navigation solution can also help companies improve efficiency by sending notes directly to the driver, like dock numbers for streamlined loading or unloading and available driver amenities, such as overnight parking to help drivers make better decisions. If a driver hits traffic and will inadvertently not arrive within their time window or open facility hours, the back office can proactively reach out and reschedule with the shipper to avoid penalties.
3. Transparency and real-time data. ETAs are essential for efficient transportation networks, but are subject to change due to a variety of factors, including weather, traffic, mandatory hours of service breaks, etc. Commercial location technology and predictive data can help back-office operations adjust to unexpected changes and update ETAs to better manage customer expectations. Sharing real-time data can also streamline activities within the transportation ecosystem by keeping stakeholders informed so that delays don't have downstream effects at loading facilities.
When transportation companies prevent service failures and efficiently reschedule appointments to avoid detention and charges for layovers, they can optimize asset usage and plan future loads more effectively. Transparency and real-time data allow everyone in the transportation ecosystem to be more flexible as real-world conditions affect ETAs.
It's important to keep in mind that the transportation industry was already headed in this direction. Interest in map intelligence is now mainstream across other enterprise sectors too, according to the Dresner Advisory Services' 2020 Location Intelligence Market Study, which found that location intelligence has become an increasingly important component of business analytics.
Location intelligence is a crucial form of data that generates insights to allow transportation companies to serve customers more efficiently. For the transportation industry, data streamlines operations, produces accurate ETAs and helps companies keep drivers safe and efficient. Before digitalization and widespread use of big data, transportation companies didn't have a way to avoid empty trucks, delays at facilities or missed delivery times due to inaccurate directions. It was just a part of doing business.
Now, transportation companies can use data insights, including location intelligence, to make better decisions, minimize waste of money and time and optimize productivity, regardless of the size of the organization. Data-driven decision-making improves productivity by 5-6%, according to MIT research, irrespective of other factors, including technology investment levels.
Now more than ever, map intelligence and advanced technology tools are a must-have for transportation companies. The massive ramp-up of demand and the severe supply chain disruptions related to the pandemic exposed industry fault lines that already existed. Some industry analysts expect a challenging environment in the months ahead, complicated by the driver shortage and market volatility.
As competitive pressures mount and the driver shortage gets more acute, the companies that use commercial location data and technology to improve safety, efficiency and back-office communication will be in a better position to thrive and grow. For these reasons, look for the transportation industry to go big on commercial location data and tech in 2021 and beyond.