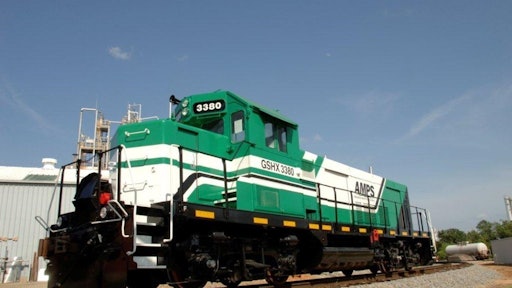 OmniTRAX
OmniTRAX's Newburgh & South Shore Railroad (NSR) plans to launch an operational electric locomotive after purchasing it to power its northern Ohio rail lines. The locomotive is said to reduce fuel consumption in half and has 1,700 gross horsepower. The purchase was made possibly from a grant that was awarded to NSR from the $75 million Diesel Mitigation Trust Fund from the Ohio Environmental Protection Agency, which is now in its fourth year of grants. While consumption will be reduced in half, emissions will decrease by an estimated 77%.
Per PR Newswire:
The Fund, in its fourth year of grants, awards eligible applicants with grants that support the demonstratable improvement of air quality.
The EPA's national and regional rules to reduce emissions of NO2 and NOx help state and local governments meet the National Ambient Air Quality Standard (NAAQS). Based in Cuyahoga County, NSR serves rail customers in the greater Cleveland area. The NSR was one of seven grantees awarded for projects that reduce emissions from aging diesel vehicles and equipment.
"OmniTRAX is committed to operate safely and responsibly in the communities we serve, and AMPS Traction's innovative technology is an important addition to our fleet and an important step for our industry," said OmniTRAX CEO Dean Piacente. "We are thankful to Governor DeWine and Ohio EPA for their commitment to clean air and the grant program that has made this emission-saving equipment upgrade possible in our Ohio operations."