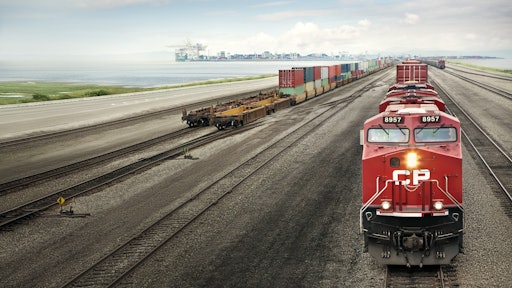 Canadian Pacific Railway Ltd., the second-biggest railroad in Canada, is exploring a takeover of U.S. carrier Norfolk Southern Corp. in a fresh attempt to consolidate the North American industry, according to people familiar with the matter, according to Bloomberg. The shares surged on the news.
Canadian Pacific is raising financing and has held early-stage merger talks with Norfolk Southern, which is valued at about $24 billion, said two of the people, who asked not to be identified because deliberations are private. Discussions are preliminary and talks may not progress or lead to a deal, they said. Representatives for Canadian Pacific and Norfolk declined to comment.
A move for Norfolk Southern, the second-biggest railroad in the eastern U.S., would revive Canadian Pacific's effort to build a transcontinental carrier after talks with CSX Corp. failed last year. In floating the idea of a CSX tie-up, Canadian Pacific Chief Executive Officer Hunter Harrison upended the long-held view in the industry that it was fruitless to even discuss another merger because regulators would object.
"We would view a potential transaction positively," Desjardins Capital Markets analyst Benoit Poirier said in a note to clients. The challenge, he said, would be winning regulators' blessing, which makes it "unlikely that a transaction can be completed in the short term."
Dealmaking since U.S. railroad deregulation in 1980 has shrunk the number of major U.S. carriers to four alongside Canadian Pacific and Canadian National Railway Co. But Harrison, 71, is a veteran of past rail mergers, and has led an operational turnaround at Canadian Pacific since being lured out retirement in 2012 by activist investor Bill Ackman, whose Pershing Square Capital Management is the biggest shareholder. The railroad's market value was about C$27 billion ($20 billion) as of Friday.
To read more, click HERE.