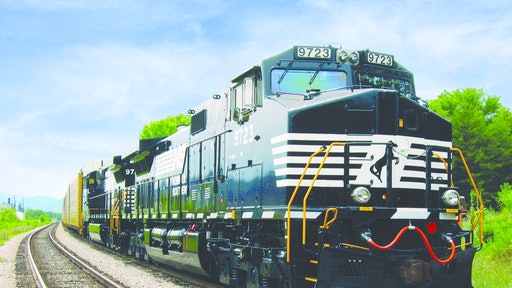 Getty Images
For some time, rail remained the underdog in the transportation sector, taking a backseat to its trucking and shipping counterparts. But, when something like the Coronavirus disease (COVID-19) strikes, rail becomes the go-to solution for moving goods across the country.
Here are Top 5 trends and technologies driving the rail industry forward.
1. Visibility.
Being able to forecast and somewhat prepare for future supply chain disruptions is a key piece to the supply chain puzzle. That's why many of today's rail and intermodal providers are implementing supply chain visibility.
For starters, KALERIS launched Transport Analytics, a powerful business intelligence offering to increase enterprise analytics across the rail supply chain. Transport Analytics visualization tools and dashboards help users analyze large data sets, aggregate key performance indicators and quickly identify and manage exceptions to improve asset utilization, inventory turns and productivity.
GS1 developed EPCIS for Rail Vehicle Visibility, a new GS1 application standard that allows rail stakeholders to leverage Electronic Product Code Information Services (EPCIS) to obtain complete visibility of rolling stock in real-time.
2. Technology and innovation.
One thing rail has been doing a lot of is innovating. Whether it's implementing augmented reality, holographic projection and 3D laser scanners to shipment visibility solutions, advanced fuel management systems and machine learning, the revival of rail involves everything high tech and operating smarter.
The U.S. Department of Transportation, for example, developed the Automated Vehicles Comprehensive Plan to advance rail safety, promote collaboration and transparency, modernize the regulatory environment and prepare the transportation system for disruptions.
As discussed in Food Logistics' SCN Summit: Transportation session, 42.9% of survey respondents are investing in Internet of Things (IoT) to optimize their transportation supply chain, while 14.3% are investing in automation.
"Widespread deployment of new technologies like Positive Train Control (PTC) — strategically designed to address human error — are opening an exciting new era of safety and efficiency improvement for U.S. freight railroads," says Luisa Fernandez-Willey, assistant VP, policy and economics for Association of American Railroads (AAR). "The nation's largest railroads, known as Class Is, successfully met the congressionally mandated deadline to have PTC fully operable by the end of 2020. Today, PTC is fully implemented and in operation on 100% of Class I PTC route-miles network wide."
3. Sustainability
Despite the COVID-19 pandemic, rail and intermodal continued to operate as sustainably as possible.
For instance, railroads already have deployed advanced fuel management systems, giving locomotive engineers real-time power and speed recommendations to improve fuel efficiency up to 14%, Fernandez-Willey says.
"Improved rail car designs and distributed power (placing a locomotive in the middle or rear of a train) reduce the horsepower needed to move a 125-car train. Additionally, some railroads are also testing potentially game-changing technology such as battery electric and hydrogen fuel cell locomotives," she adds. "Preserving the environment and combatting climate change is a responsibility railroads take seriously. Thanks to targeted investments, innovative technology and evolving operations, railroads are the most fuel-efficient way to move freight over land. In fact, one train can move 1 ton of freight more than 470 miles on 1 gallon of fuel, on average."
Ward Proctor, director, business solutions for Railinc, adds that freight rail is the most efficient and sustainable way to transport goods across North America.
"With just 1 gallon of fuel, a ton of freight can be moved more than 470 miles and less than 1% of all U.S. greenhouse gas emissions come from freight railroads," he adds. "Railinc's visibility products enable adoption of fuel-efficient rail by a broad spectrum of shippers who require a high level of supply chain visibility when moving perishable shipments or products that must be protected from tampering or contamination. With enhanced visibility through Railinc's RailSight Suite, shippers can confidently choose rail as a sustainable shipping option."
For its part, Schneider announced a new set of corporate goals in achieving a sustainably-focused culture. These goals includes a commitment to reduce carbon emissions by 7.5% per mile by 2025; a commitment to doubling Schneider's Intermodal size by 2030, thus reducing carbon emissions by an additional 700 million pounds per year; and a commitment to achieving net zero status for all company-owned facilities by 2035, among others.
"Schneider has committed to the future of fleet electrification, making necessary short- and long-term investments such as testing electrified powertrains, developing strategic zero-emission vehicle (ZEV) adoption plans and building relationships with key stakeholders and industry partners. The company has been piloting the use of an electric eCascadia truck by Freightliner in California for local and regional delivery and pick up," says Craig Paulsen, VP, intermodal sales and marketing for Schneider.
4. Real-time results.
Advances in rail shipment estimated times of arrival (ETA) make it possible for shippers to use both intermodal and carload shipments that provide essential time-to-market performance and reliability, Proctor says.
"The RailSight Suite of Applications provides more than 11 million daily shipment and equipment management events that enable 3PLs, equipment owners and other customers to easily plan operations and respond to issues," he adds. "Railinc's RailSight has launched a new advanced ETA service that utilizes machine learning to provide more reliable ETAs than what has been available. Using neural networks, the advanced ETA service now dynamically uncovers origin-destination specific patterns from Railinc's event stream that can more appropriately account for the complexity required to predict arrival times. With the resulting significant ETA improvement for both freight and intermodal lanes, shippers can better plan plant operations, manage inventory and inform customers."
5. Intermodal makes comeback.
Total intermodal volumes rose 9.6% year-over-year in the fourth quarter of 2020, according to the Intermodal Association of North America's (IANA) Intermodal Quarterly report. Domestic containers gained 8.7% year-over-year 2020; international shipments, 9.4%; and trailers, 17.5%.
"Intermodal continued its comeback in the fourth quarter after declines in the first half of the year," Joni Casey, president and CEO of IANA said in a press release. "Against the backdrop of COVID, all market sectors posted gains, setting the pace into at least Q1 of 2021."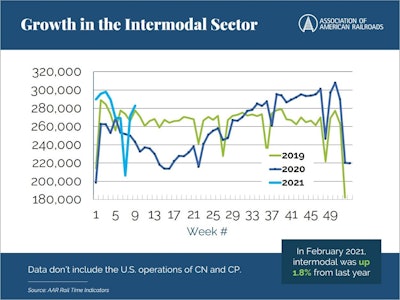 Intermodal also hit record-breaking levels in November and December 2020 due to imports and increased e-commerce demand and businesses re-stocking inventory, says Fernandez-Willey.
"Once the economy re-opened by mid-2020, we saw recovery across many carload categories and intermodal," she adds.