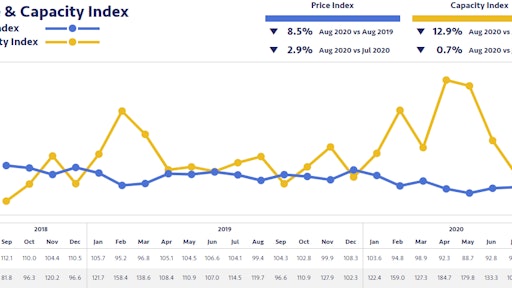 Transporeon

Compared to July 2020, 0.7% less road transport capacity was available in the first two weeks of August on the European spot market.
In comparison with August 2019, year-on-year available capacity has fallen (-12.9%).
However, the positive price trend observed in June and July failed to continue. Compared to July 2020, prices fell by 2.9%. Year on year, prices remain at a low level at -8.5% compared to August 2019.
The stabilisation of the capacity level can be partly ascribed to the seasonal "summer holiday effect", with large parts of the European industry shutting down production in July and August or pausing it for maintenance work.
In addition, there is still a high level of uncertainty affecting the industry and economy due to the coronavirus pandemic. As a result, the price level remains persistently low, although capacity utilization in the European road transport market is significantly higher than in the same period last year (July and August 2019).
The chemical industry is showing an unexpected development: although available capacities on the spot market are massively decreasing (-27.5% compared to July 2020), the price level on this market is also declining (-17.1% compared to the previous month). This data could serve as an indication for long-term difficulties in this industry.
Meanwhile, the automotive industry appears to be continuing its recovery, as the stable price development (+0.3% compared to July 2020) shows. The increase in available capacities (+8.2% compared to the previous month) corresponds to the typical summer development.
This is the result of the current evaluation of the transport market monitor (TMM). The online service is provided by Tim Consult on the basis of transport data of more than 1.8 million freight loads per year. The processed transport data, stemming from the spot market, are provided by Transporeon, the European market leader for cloud-based platforms in transport logistics. The report is based on data available up to 15 August 2020.
"We are currently 8.5% below the previous year's level for spot market prices in road transport. Price deterioration seen in spring this year could not be compensated by the catch-up effects of the past months. The typical increase in available capacities - for example in the automotive industry - is due to the holiday season," said Oliver Kahrs, Managing Director of Tim Consult, a Transporeon subsidiary. "However, we are observing an atypical development in the chemical industry: available capacities and spot market prices achieved are decreasing simultaneously. Whether this is related to fundamental structural problems in the industry remains to be seen and will become more apparent as new data becomes available in the coming months."